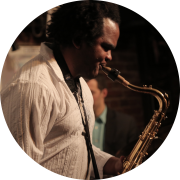 Noedy
Improvisation/Saxophone/Theory (Harmony)/Theory (Jazz)
The first lesson is always a trial lesson.
If for any reason you are not happy we will fully refund any pending charges or help you find a new teacher. Your choice!
Subjects Taught
Improvisation
Saxophone
Theory (Harmony)
Theory (Jazz)
Lesson Locations
Teacher's Studio
Student's Home
Ages Taught
Children
Teens
Adults
Seniors
Levels Taught
Beginner
Intermediate
Advanced
Teaching Statement
I believe that learning an instrument has to be fun, that's why I always try to create a friendly atmosphere during my classes. I believe that everybody learns at different pace and it is important to respect each of our rhythms. I try to always adapt myself to the needs, strongest and weakest points of my students. A good student-teacher relationship based on respect and mutual interest is a necessary tool to learn music, and to have fun in doing it.
Education
Music Formation:
2011-2015 Bachelor degree, Music Jazz Performance, School of Music, University of Sherbrooke, Quebec.
2002 – 2006 Classic, Alvaro Variel Conservatory, Havana.
1996 – 2001 Classic, elementary level, Lauro Fuente Conservatory, Santiago de Cuba.
Private Musical Formation:
2014 Danilo Pérez, piano and improvisation, New York.
2014 Ralph Bowen, saxophone jazz, Bishop University.
2011-2014 Richard Savoy, saxophone jazz, School of Music, University of Sherbrooke.
2013 Aruan Ortiz, piano harmony and improvisation, New York.
2012 Remi Bolduc, saxophone jazz, McGill University.
2009-2011 Frank Lozano, saxophone jazz, McGill University.
Biography
I am originally from Santiago de Cuba and immigrated to Canada in 2008. My Cuban roots deeply influence my work. I was trained in classic music (which is common in Cuba), played in various bands of salsa and timba in Havana, and become fundamentally interested in jazz music. When I moved to Canada, I was accepted for the Jazz Performance program at the School of Music at the University of Sherbrooke in the province of Quebec. I just finished my B.A. and moved with my familly to Victoria, located on the West Coast of Canada. I now teach music and perform at different venues and events.
Studio Policies
I ask my students to meet on time and to come with a positive mind: be ready to learn music, discover new things and have fun!