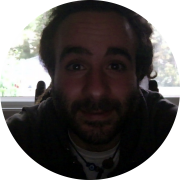 Frederick
Bass Guitar/Guitar/Guitar (Electric)
The first lesson is always a trial lesson.
If for any reason you are not happy we will fully refund any pending charges or help you find a new teacher. Your choice!
Subjects Taught
Bass Guitar
Guitar
Guitar (Electric)
Lesson Locations
Teacher's Studio
Student's Home
Teaching Statement
Teaching guitar I always try to make my classes fun and keep the student interested in learning and becoming a better musician.
I trully belive that anyone can play music and it's never to late to learn. With good guidance and dedication I can teach anyone and personalize each class to each student for a positive outcome.
I do enjoy letting loose and allowing students to improvise and jam, but also make sure technique is learnt.
Education
Carleton University – Ottawa ON, Bachelor of Arts degree in Music & a Diploma in Sonic Design Sep 05 to Jun 09
High School (10th – 12th Grade) at Brookfield High School (BHS) – Ottawa, ON Sep 02 to Jun 05
High School (9th Grade) at American International School (AIS-R) – Riyadh, KSA Sep 01 to Jun 02
Middle School at American International School (AIS-R) – Riyadh, KSA Aug 98 to Jun 01
Elementary & Middle School at the Greek Cypriot School – Riyadh, KSA Sep 93 to Jun 98
Biography
Music has always been in my family for as long as I can remember.
I have been playing guitar and bass guitar for over 15 years in various groups both Nationally and Internationally.
I also know how to play clarinet and upright bass.
Studio Policies
My studio varies in location.