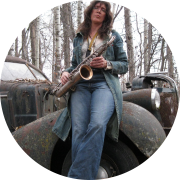 The first lesson is always a trial lesson.
If for any reason you are not happy we will fully refund any pending charges or help you find a new teacher. Your choice!
Lesson Locations
Teacher's Studio
Student's Home
Ages Taught
Children
Teens
Adults
Seniors
Teaching Statement
I believe that in order to keep a student's interest in a particular instrument, you must teach them the style they are interested in. Music is a passion and it can easily be killed by focusing on theory or reading styles the student is not interested in learning. Learning to read is important, but so is learning to play by ear, that way you can correct your intonation and learn any song you desire. My studies with students include both reading and playing by ear, also writing and some theory such as scales. All this is learned as the student learns the songs keeping the student interested in their studies.
Education
Mount Royal Conservatory of Music, St. Francis High School, St. Helena Junior High School
Biography
Hello! My name is Caroline and I was born and raised in Calgary AB. I have been playing saxophone for over 30 years and have played with many different musicians. My favorite styles of music are blues, country and rock with a little standard jazz mixed in. I have written and recorded several pieces of music in my home studio and continue doing so today. I've lived in a few different areas of western Canada allowing me to collaborate with several different musicians. I have recently relocated to the South Cariboo area in beautiful BC and look forward to meeting you and helping you grow your passion as a budding saxophonist!
Studio Policies
Respect for my space, instruments and the people around you.