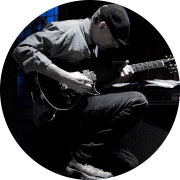 Jimfre
Guitar/Guitar (Electric)/Theory
The first lesson is always a trial lesson.
If for any reason you are not happy we will fully refund any pending charges or help you find a new teacher. Your choice!
Subjects Taught
Guitar
Guitar (Electric)
Theory
Lesson Locations
Teacher's Studio
Student's Home
Teaching Statement
Intention is to help students develop skills on playing guitar and to be able to further their own study. I teach chords, chord construction (theory), finger picking - Travis style, Dropped D alternate thumb style, blues patterns, chord and lead styles
Education
Web Design BCIT, Mathematics UBC, McGill University, computer programming,
Biography
Studio Policies
Student must agree to practice minimum 20 minutes per day. All students under 18 years of age must be accompanied by an adult for lessons at my location.