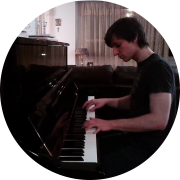 Sebastian
Piano/Piano (Classical)/Piano (Jazz)/Theory (Harmony)/Theory (Rudiments)
The first lesson is always a trial lesson.
If for any reason you are not happy we will fully refund any pending charges or help you find a new teacher. Your choice!
Subjects Taught
Piano
Piano (Classical)
Piano (Jazz)
Theory (Harmony)
Theory (Rudiments)
Lesson Locations
Teacher's Studio
Student's Home
Levels Taught
Beginner
Intermediate
Advanced
Teaching Statement
My aim in being a piano teacher is quite straightforward: to help my students master the piano.
This actually means much more than one might initially understand.
Many teachers are focused on getting students to acquire proper technique, to learn basic theory and to be able to play certain songs that often come from a redundant repertoire countless pianists always acquire.
My aim is to get students to understand the instrument. Though practising scales and arpeggios, using correct fingering, learning to read scores are all essential to a pianist, they should only form the basis to understanding what the piano does.
I hope to show my students what the use of each of these basic elements is, to make them see the way scales and chords interact and how they can be used in improvisation and composition, to show them what a piece is trying to say and how each measure has thought behind it, how to read and interpret scores on their own.
In the end, what I want is to not create "pianists", who KNOW how to play piano, as though they were a product, but instead to educate students into becoming true musicians who UNDERSTAND what music is, what it can be and how it is made.
Of course this is quite a high achievement to hope for and I am aware of this. But the take away message is that this would be the hidden objective present throughout my teaching of piano, starting with its rudiments and up until mastering it.
Education
8th year diploma for Classical Piano performance, Vincent-d'Indy School of Music, 2014
Musical history and analysis option in the French Baccalaureate, College Stanislas, 2014
(Currently working on 9th, i.e. last year of piano at Vincent-d'Indy on the side of my university degree)
Biography
I am what might be called a late entry to the world of music. My learning of piano started at the age of 12, when many others would start to claim that they already have many years' worth of experience in the instrument. Yet, without making it my expressed goal, my passion for music drove me to very quickly catch up to the experience of my peers.
What started as a small hobby at a whim progressed over the years into what is perhaps my greatest source of happiness and achievement. And although I am by no means an example to be necessarily followed in this regard, I like telling this to people in order to shatter any prejudices they may have about mastering an instrument: the age at which we start and the sheer number of hours we spend on an instrument have no value to mastering it. The only way to do so is to appreciate the instrument and to play it with passion for its sound.
My musical learning followed a very steep curve as soon as I started playing piano. I took lessons with a private teacher who prepared me more than enough to dash through the Vincent-d'Indy curriculum without taking my lessons there. I started playing in small concerts, for charity, and I kept delving into music of all sorts, focusing on a desire to compose.
Nowadays, my passion for music is as strong as ever, which is why I am still pursuing my final year exams at Vincent-d'Indy while also keeping up with my medical studies at McGill. My spare time is almost exclusively dedicated to interpretation, composition and improvisation on piano and guitar and I would be delighted to share some of my time to teach this wonderful art to others.