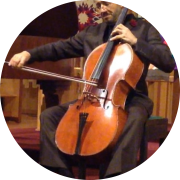 Alexander
Cello/Cello (Baroque)/Chamber Music
The first lesson is always a trial lesson.
If for any reason you are not happy we will fully refund any pending charges or help you find a new teacher. Your choice!
Subjects Taught
Cello
Cello (Baroque)
Chamber Music
Lesson Locations
Teacher's Studio
Student's Home
Teaching Statement
Teaching Statement-
My masters believed, as I believe, that a great artist must also teach his or her primary instrument. I strive to make sure my cello students have excellent posture and a very solid technical foundation and set of specific, working strategies for fingering, shifting and bowing in order to avoid pain and tension and to fully enjoy executing and interpreting the wonderful classical repertoire of this extremely popular instrument.
Lessons are $160.00, but are not limited to an hour. The better the student the more there is to say and work on so I will always make sure there is plenty of time beyond the 60 minute minimum. Students should expect to play open strings, some double stop intervals, at least one set of scales and arpeggios, play through an etude or other technical study and then a movement of one or more solo works. We will then discuss practice strategies that address and solve the most important issues of fingering and bowing, of dynamics, articulation, musical style, interpretation and general musicianship.
Coaching Statement-
Whether you are auditioning for colleges, graduate schools, orchestras or you are preparing a duo, trio, quartet or other chamber recital I will bring all of my real world experience in those areas along with an open and honest ear to make sure you have positive audition outcomes and professional sounding ensemble performances.
Coachings are $200.00 per individual or ensemble and are 90 minutes.
Education
My uncle is a professional cellist and my grandmother was an adult beginner so I have been around cellos and cellists my whole life. I began playing the cello in Connecticut in 1977 when I was 9 years old taking lessons from Carole Olefsky of the Hartford Symphony. I would very soon become good enough to play chamber music with my father and uncle and I would also ride with my grandmother to the Hartt conservatory to be her stand partner in a reading orchestra.
Just after 6th grade in 1980 my father became engaged as conductor and vocal coach at the State Theatres of Salzburg and Linz where I continued my studies through middle school with Dankwart Gahl at the Mozarteum and Roland Rois at the Musikschule respectively. In Linz I was also on the first stand of the university orchestra.
In 1983 I decided to move back to Connecticut to finish high school and resumed studies with Harry Clark, founder of Chamber Music Plus and principal of the Hartford Symphony. After graduation I followed my uncle's footsteps to the University of Arizona where I was one of Gordon Epperson's last students before his retirement in 1988. I also met my future wife and together we moved to New Jersey where I finished my degree in 1992 with Bernard Greenhouse at Rutgers. The superb Canadian soloist and recitalist Zara Nelsova was my first teacher there when she took over a portion of the class for several months my first year.
The cello class at Rutgers was made up entirely of post-graduate degree and artist diploma candidates from all over the world. I was the only undergraduate Mr. Greenhouse accepted at first and I was exposed to the highest levels of both playing and pedagogy for four full academic years. We would become close friends toward the end of his life and I would play for him and learn more about the cello every time I visited.
By the time I had my BM in cello performance I felt as if I'd been through graduate school so I began my professional career by auditioning for and playing with orchestras, forming chamber ensembles and playing solos, but I have always had at least a few private students and I was the cello section coach of the very excellent municipal youth orchestra program in Charlotte for 7 years.
Biography
Alexander was born in 1968 in Vienna, Austria and grew up in Hannover and Munich, West Germany, Barcelona, Spain, Caracas, Venezuela, Salzburg and Linz, Austria and West Hartford, Connecticut. Surrounded by music and musicians from birth, Alex's ability showed itself early when before the age of three he could sing all the arias from Le Nozze di Figaro in his own "Italian". Alex began cello lessons at the age of nine in Hartford and continued studying at the Mozarteum in Salzburg and the Musikschule in Linz. While in high school Alex took part in the Mozarteum Summer Master Classes of Maurice Gendron and Antonio Janigro. Alex began his collegiate studies with Gordon Epperson in Tucson and finished his degree at Rutgers as with the eminent American cellist Bernard Greenhouse, founding member of the Beaux Arts Trio. Alex has held positions as principal cellist of the Greenville, South Carolina Symphony and Chamber Orchestra and assistant principal cellist of the Charlotte, North Carolina Symphony as well as being a regular extra player with the Atlanta Symphony. As soloist Alex has performed concertos and other solo works with orchestra by C.P.E. Bach, Dvořák, Milhaud, Fauré, Tchaikovsky and the world premiere of "Voice of the Wood" by the late Russell Peck. Alex is a founding member along with violist Carl St. Jacques and violinist Alan Molina of Evergreen Trio and has recently begun playing duos with Andrew Haringer of Quest University in Squamish.
Studio Policies
Parents and guardians are welcome to be present at lessons and students may record their own playing during lessons and coaching sessions.