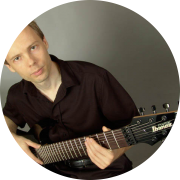 Alexey
Guitar/Guitar (Electric)/Improvisation/Theory
The first lesson is always a trial lesson.
If for any reason you are not happy we will fully refund any pending charges or help you find a new teacher. Your choice!
Subjects Taught
Guitar
Guitar (Electric)
Improvisation
Theory
Ages Taught
Children
Teens
Adults
Seniors
Levels Taught
Beginner
Intermediate
Advanced
Teaching Statement
Precision and hard work can break anything
Biography
Alexey was born in 1980 in Vladivostok Russia, capital of the remote Primorsky Region (near the Japanese Sea). His first musical lessons began at the age of 7, when Alexey tried piano. However, The final choice of a musical instrument had been made at the age of 14, when Alexey took several guitar tutorials from his uncle. Never looking back, Alexey devoted all his time to guitar, with main influences such as Stratovarius, Yngwie Malmsteen, Joe Satriani and Steve Vai, Al Di Meola, Dream Theatre, Shadow Gallery, and the like.
Forging his guitar skills, Alexey included in his repertoire a variety of classical compositions and borrowed some Celtic music ideas.
In 2014, Alexey's album was nominated by the Western Canadian Music Alliance in the category 'Metal/Hard Music Recording of the Year'. Still, his main objective remains to achieve harmony of progressive and traditional styles.