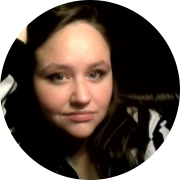 Karen
Musical Theatre/Special Needs/Theory/Vocal coaching/Voice
The first lesson is always a trial lesson.
If for any reason you are not happy we will fully refund any pending charges or help you find a new teacher. Your choice!
Subjects Taught
Musical Theatre
Special Needs
Theory
Vocal coaching
Voice
Lesson Locations
Teacher's Studio
Student's Home
Ages Taught
Children
Teens
Adults
Seniors
Levels Taught
Beginner
Intermediate
Advanced
Teaching Statement
I have worked with students of all ages and skills levels, and across all genres. I have worked with children and adults on the Autism spectrum, ESL students, pre-school, as well as seniors and late-in-life musicians.
I believe strongly that there are no lost causes when it comes to voice, anyone can learn how to sing, even those who can be considered completely tone-deaf. If a teacher tells you that you should quit, maybe they should be doing a different job.
I also believe that students should have fun with music. Learn the basics and build a strong foundation, with heavy focus on practical application. Students can pick their own songs to work with and apply my technique across all styles.
Education
EdX - University Of Edinburgh - Fundamentals Of Music Theory
EdX - Berklee College - Vocal Recording Technology
Cooper Studios - Advanced Vocal Technique, Stage Performance, Talent Development
Biography
Karen began studying voice at the age of 5, earning various school production solos and accolades throughout her elementary choir career, including at age 12 performing on the Disneyland stages. Karen began studying with Jan Cooper at Cooper Studios as a teenager and quickly advanced through his program, becoming his substitute vocal coach at age 16. She went on to perform in front of thousands of her peers, as well as music executives and professionals, when she was 18 at the Great Canadian Talent Showcase in Edmonton, Alberta - receiving several coveted call-back sessions with top reps from Sony, Virgin Records, Universal, and others. In recent years, she has been performing, as well as teaching - playing the official BC Lions 2010 Tailgate Party, several performances for the 2010 Vancouver Olympics - and interviewing independent artists for her popular music column "The Music Blog", including legendary Canadian Heavy Metal band, Anvil, local Vancouver EDM sensation Red City, and indie rock group JPNSGRLS, among others. Karen cares passionately about the artists she trains and represents, and works tirelessly to ensure they get the best opportunities available to them.
Studio Policies
Leave egos at the door, come to learn and grow. Oh, and don't forget your water bottle!