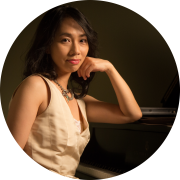 Chenyi
Accompaniment/Piano (Classical)/Theory/Theory (Harmony)/Theory (Music History)
The first lesson is always a trial lesson.
If for any reason you are not happy we will fully refund any pending charges or help you find a new teacher. Your choice!
Subjects Taught
Accompaniment
Piano (Classical)
Theory
Theory (Harmony)
Theory (Music History)
Ages Taught
Children
Teens
Adults
Seniors
Levels Taught
Beginner
Intermediate
Advanced
Teaching Statement
I base my teaching on a number of ideas and methods:
1. Music cognitive development for children and adults based on repertoire from different periods, i.e. Baroque, Classical, Romanticism, Impressionism, and Contemporary.
2. Creativity for music learning. Experimenting various approaches to attain the desired timbre to fit in the music for the rightful period of styles. Moreover, comparisons among Russian piano school, Austro-German tradition, and French piano school.
3. The correlation between the perception of music and the perception of related arts.
4. Piano pedagogy and development of musicianship.
Education
Doctor of Education in Music (Ed.D.), Columbia University, Teachers College, New York, New York
Master of Music in Piano Performance (M.M), The Boston Conservatory, Boston, Massachusetts
Bachelor of Music in Piano Performance (B.M.), The Boston Conservatory, Boston, Massachusetts
Biography
Chenyi Yu, also known as Cheyne Yu, is a concert pianist based in Toronto by way of Taipei, Boston, and New York. Born of Taiwanese and Japanese parentage, she has given numerous performances in North America, Japan, and Taiwan, including a critically acclaimed performance of the Goldberg Variations of JS Bach in Seully Hall at The Boston Conservatory. She has also given a recital debut at Steinway Hall in New York City, and participated in a seminar given by Andras Schiff on the topic of the Goldberg Variations at Weill Recital Hall in Carnegie Hall in 2001. She served as an Adjunct Assistant Professor in Taipei, at Tatung University, and also at the National Taipei University of Technology, teaching piano performance, history of western music, and music appreciation.
A graduate of the doctoral program at Columbia University's Teachers College in New York City, Chenyi's dissertation,"The Effect of Touch on Tone Production on a Grand Piano" is relates to performance practice and historical studies on piano playing. The New York based master teacher and performer, Seymour Bernstein, was one of the interviewees who personally given insightful help for Chenyi to complete her academic work. She is also a recipient of Alfred. E. Lee Piano Scholarship which helped Chenyi obtained her Master and Bachelor of Music at The Boston Conservatory. Chenyi has performed in master classes for world acclaimed concert pianists and professors including Monique Duphil, Michael Lewin, Dr. Jonathan Bass, Janice Weber, Gabriel Chodos, and Vladimir Feltsman. She has studied with Irwin Gelber and Ada Kopetz-Korf who are both pupils of legendary Scottish-American master pianist and a respectable teacher at the Juilliard School, James Friskin.
In 2013, Chenyi became a resident of Toronto and continues to devote herself to teaching and performing.
Studio Policies
Absence notice: must be given to the teacher 24 hours in advance.
Always wash hands with soap right after the student arrived teacher's studio.