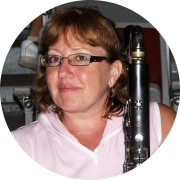 Lorraine
Chamber Music/Clarinet/Saxophone/Theory (Rudiments)
The first lesson is always a trial lesson.
If for any reason you are not happy we will fully refund any pending charges or help you find a new teacher. Your choice!
Subjects Taught
Chamber Music
Clarinet
Saxophone
Theory (Rudiments)
Ages Taught
Children
Teens
Adults
Seniors
Teaching Statement
Any music student has the ability to succeed. It is my job as a teacher to help students do just that. The journey is how the student truly discovers themselves. I provide students with every bit of information that I can to guide them through their journey.
Music is very personal. Students who learn to play an instrument tend to become very vulnerable during the process. After learning the basic technique, they must look inside themselves to find their expression and create their art. I believe in creating a safe and enthusiastic environment for my students to explore that part of themselves.
I also believe that music should be enjoyable. Not all students want to become professional musicians. Many simply love music and want to learn enough to be able to create a little on their own. Some need a boost to improve at school. Some want a new and different challenge. No matter the motivation my job is to teach them to have fun and enjoy music.
Education
DEC in music performance from Marianopolis College
Biography
Lorraine Pitre has taught Clarinet and Saxophone for 25 years offering lessons at her home studio in Dorval and through the McGill Conservatory of Music. She offers Clarinet workshops at various schools in the Montreal and outlying areas and is a Substitute Band teacher as well. She attended McGill University in Music Performance studying Clarinet with Michael Dumouchel of the Montreal Symphony Orchestra and Saxophone with the late Gerald Danovitch. Lorraine plays in several pick-up orchestras and is the founder of The Mimosa Wind Ensemble, The Six Wing Combo and The Capricious Winds. She is also the Director of the Third Session of Camp Musical d'Asbestos every summer.