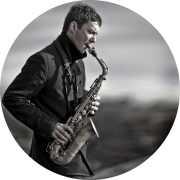 Dylan
Clarinet/Flute/Saxophone/Violin/Woodwinds
The first lesson is always a trial lesson.
If for any reason you are not happy we will fully refund any pending charges or help you find a new teacher. Your choice!
Subjects Taught
Clarinet
Flute
Saxophone
Violin
Woodwinds
Ages Taught
Children
Teens
Adults
Seniors
Levels Taught
Beginner
Intermediate
Advanced
Teaching Statement
I love teaching and passing on the great lessons I learned from my two phenomenal teachers. I have produced several outstanding musicians, many who have gone on to become professional musicians and teachers. My three cornerstones of teaching are developing quality of sound, outstanding technique, and masterful interpretation. I feel that these three principles are the key to attaining the highest musical character. I enjoy working with people of all ages and levels, and make a point of tailoring my lessons to suit the individual needs of each and every student.
Education
Studied saxophone, flute and clarinet in Los Angeles from 1977-1986 with jazz legend Sonny Criss and studio session player Phil Sobel. Attended the Dick Grove School of Music in Los Angeles from 1977-1979.
Biography
I have been teaching music since 1988. I studied saxophone, flute and clarinet in Los Angeles from 1977-1986 with two renowned saxophonists, jazz legend Sonny Criss, and studio session player Phil Sobel. I teach any and all styles of music, and place a premium on playing songs, as opposed to exercises. I do teach RCM to interested students. I am also a recording artist, and have released four cds worldwide, to critical acclaim. I am currently teaching full time and am working on my fifth recording.