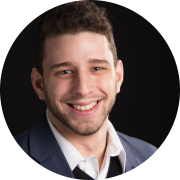 Joseph
Composition/Orchestration/Theory (Harmony)/Theory (Music History)/Theory (Rudiments)
The first lesson is always a trial lesson.
If for any reason you are not happy we will fully refund any pending charges or help you find a new teacher. Your choice!
Subjects Taught
Composition
Orchestration
Theory (Harmony)
Theory (Music History)
Theory (Rudiments)
Lesson Locations
Teacher's Studio
Student's Home
Levels Taught
Beginner
Intermediate
Advanced
Teaching Statement
As a composition teacher I strive to strike a balance between having the student find their own creative voice and focusing on the fundamentals of technique. My lessons seek to expand a student's knowledge of the recent repertoire, work out and explore new techniques, as well as debate existing forms and structures. I also offer advice on the practicalities of securing a performance of a new piece and navigating the networks of the new-music community. Ultimately I wish my students to be creative and we will work towards several composition projects of increasing complexity throughout the year.
As a theory teacher my lessons are always based in practical instruction. I believe that a students best approach to theory is through their own instrument and repertoire. I place my lessons always in context of what a student is or may be working on. I also highly encourage students to write their own pieces using theory rules discussed in lessons. I believe this hands on approach is the best way to solidify these rules with my students.
Education
BMus (composition) - University of British Columbia 2014
MMus candidate (composition) - McGill University 2017
Biography
Described as "a voice to watch out for", Joseph's music draws inspiration from instruments and the people who play them to create meaningful dialogue on stage. Born in Montreal, Joseph has studied with notable teachers including: Jocelyn Morlock, Dorothy Chang, Stephen Chatman, Keith Hamel and Gary Kulesha. Joseph holds a degree from the University of British Columbia. Joseph is currently pursuing a Masters of Music degree at McGill University.
Joseph has had his works performed by the Toronto Symphony Orchestra, Vancouver Symphony Orchestra, the Gryphon Trio, the Amici Chamber Ensemble and the UBC Contemporary Players the among others. Joseph is currently Composer-in-Residence with the Toronto based chamber collective, Musica Reflecta.