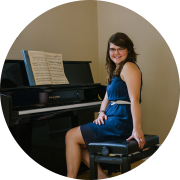 Laurissa
Music for Young Children/Piano
The first lesson is always a trial lesson.
If for any reason you are not happy we will fully refund any pending charges or help you find a new teacher. Your choice!
Subjects Taught
Music for Young Children
Piano
Lesson Locations
Teacher's Studio
Student's Home
Teaching Statement
Private lessons consist of a balance between learning technique/scales, songs, and the theory/history of music. Student suggestions for song choices are always welcome- after all, one of the joys of learning to play the piano is to reproduce the music we already love!
Biography
My name is Laurissa and I am a private piano instructor located in Saskatoon, Saskatchewan. I bring piano lessons to you in the comfort of your own home, as well as offering them in my own home studio (located in Buena Vista).
My studio is young, vibrant and growing. I love to teach all ages and all levels but specialize in beginners and intermediate levels.
I am passionate about two things:
** making music lessons fun & relevant
** excellent instruction
I have been teaching piano for over 10 years and have an ATCL (Associate of Trinity College London) in piano performance. In addition, I have my Grade 9 RCM and am a member of the Saskatchewan Registered Music Teachers Association.
Let the love of music begin!