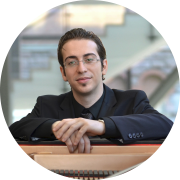 Rudin
Accompaniment/Piano/Piano (Classical)/Piano (Jazz)/Piano (Popular)
The first lesson is always a trial lesson.
If for any reason you are not happy we will fully refund any pending charges or help you find a new teacher. Your choice!
Subjects Taught
Accompaniment
Piano
Piano (Classical)
Piano (Jazz)
Piano (Popular)
Ages Taught
Children
Teens
Adults
Seniors
Levels Taught
Beginner
Intermediate
Advanced
Teaching Statement
An experienced and dedicated teacher, Rudin welcomes students of all ages and abilities. He believes in instilling a love
and appreciation for music in all of his students and strives in guiding them towards a successful completion of their goals
and ambitions while preserving their enthusiasm. The lessons will be tailored to the student's individual needs and objectives, and periodical goals will be set to keep them motivated.
Education
2015-: University of Toronto, a student of Jamie Parker, completing a DMA (Doctorate in Musical Arts) degree in Piano Performance
2011 - 2013: The Glenn Gould School, a student of John Perry and David Louie, completed a 2-year Artist Diploma
2008 - 2010: Manhattan School of Music, a student of Daniel Epstein, completed a Master's of Music in Piano Performance (Dean's List)
2004 - 2008: Western University, a student of James Anagnoson and Leslie Kinton, completed a Bachelor of Music program in Piano Performance (Honours with Distinction)
2001 - 2004: George Harvey Collegiate Institute, graduated with an average of 99%, the 2nd highest in the Greater Toronto Area
2001 - 2007: Royal Conservatory of Music, a student of James Anagnoson, completed an ARCT Diploma in Piano Performance
Biography
Rudin's piano playing has been described as "profound, imaginative and exceptionally communicative". Winner of the 2012 Glenn Gould School Concerto Competition, the 5th Knigge Music Competition and the 2010 TD Elora Competition, he was also the 2nd prize winner at the 40th William C. Byrd International Competition and winner of the Mary Winston Smail Memorial Award for Best Pianist at the 2011 WAMSO Minnesota Competition, the London Kiwanis Festival's Rose Bowl, UWO London Music Scholarship Foundation, as well as the Grand Prize at the Rotary Music Festival in Burlington.
This past fall Rudin was invited to Vancouver for two performances of Rachmaninoff's 3rd Piano Concerto with the West Coast Symphony Orchestra under the baton of maestro Bujar Llapaj. He was also the featured soloist for the Deep River Symphony Orchestra's season opening concert in Chopin's Piano Concerto No.1, conducted by Peter Morris. Earlier in the year, Rudin was a participant in the 6th Paderewski Piano Academy, in which he performed both Chopin and Rachmaninoff concertos with the Toruń Symphony Orchestra under the direction of Anna Duczmal-Mróz and Przemysław Fiugajski. Other performances included a solo appearance with John Palmer and the Greater Toronto Philharmonic Orchestra in Chopin's Andante spianato et Grande Polonaise Brillante, and solo performances in Hastings (United Kingdom) and Utrecht (Netherlands).
Rudin has participated in summer programs and festivals at the Paderewski Piano Academy, The International Holland Music Sessions, the Banff Centre, Centre d'Arts Orford, the Chautauqua Music Festival and the Toronto Summer Music Academy and Festival, where he has performed for world-renowned pianists such as Leon Fleisher, Menahem Pressler, Andrea Bonatta, Anton Kuerti, Jacques Rouvier, and John O'Conor.
Rudin has been the recipient of over 50 awards and scholarships for his musical and academic accomplishments, including the F. K. Ashbaugh President's Entrance Scholarship (Western University), 2004 Miller Thomson National Scholarship, Queen Elizabeth II Aiming for the Top Scholarship, Silver Jubilee Award of Excellence and the Chawkers Foundation Scholarship. In 2008, he completed a Bachelor's Degree in Piano Performance at Western University on a National Scholarship, studying with James Anagnoson and Leslie Kinton. He received his Master's Degree in 2010 from the Manhattan School of Music on a President's Award studying with the esteemed pianist and pedagogue, Daniel Epstein. As a student of John Perry and David Louie, Rudin recently completed an Artist Diploma at the Glenn Gould School on a prestigious Ihnatowycz Emerging Artist Scholarship. He is currently pursuing a Doctorate degree in Piano Performance at the University of Toronto with Jamie Parker, funded by the UofT and the Simmonds Graduate Fellowship.
Studio Policies
Students under the age of the age of 18 must be accompanied by their parent/guardian for the first lesson. Students under the age of 10 must be accompanied by an adult (parent/guardian/sibling) in the following lessons as well.