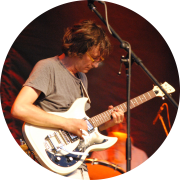 Roberto
Composition/Guitar/Guitar (Electric)/Music Production/Theory (Jazz)
The first lesson is always a trial lesson.
If for any reason you are not happy we will fully refund any pending charges or help you find a new teacher. Your choice!
Subjects Taught
Composition
Guitar
Guitar (Electric)
Music Production
Theory (Jazz)
Ages Taught
Children
Teens
Adults
Seniors
Teaching Statement
I like to guide students to learn and understand how music works, help them develop certain techniques on their instrument and teach them how to lear and explore on their own.
Education
1998 Bachelor of Fine Arts (Jazz Studies) - Concordia University, Montreal
Biography
Born in Bogotá, Colombia, Roberto moved to Montreal in 1994 to pursue his studies in Jazz performance and composition at Concordia University. After playing with many diverse artists, he created the Roberto López Project in the Fall 2005, so he could present his original compositions. Based in Montreal, QC, band members include talented musicians originating from various parts of America such as Colombia, Cuba, El Salvador, Brazil, Haiti, Mexico, New Brunswick, and Quebec. During the past 6 years, the band performed at many festivals throughout Quebec, Mexico, Ontario and New Brunswick. Roberto released 2 albums with the RLP: "Que Pasa?" (2006) and "Soy Panamericano" (2009).
In 2011, and parallel to the RLP, he created the Afro-Colombian Jazz Orchestra. An ambitious project of reviving the cumbia big band era of the 70's and enhanced it with a contemporary approach. CBC Radio 2 embarked early and taped the first concert of the ACJO in Montreal, and presented it on the series Concerts on Demand. In 2012, and after many concerts, Roberto released his 3rd album "Azul". A unique encounter between traditional wind ensembles from Colombia's Caribbean coast and North-American Jazz bands. He has played extensively across Quebec and has also toured across Canada. He was recently part of a radio documentary on JAZZ FM (Toronto) called "Identities", celebrating the stories and accomplishments of seven musicians who immigrated to, or sought refuge in, Canada.
Past high profile shows include: Canadian Tour in 2013 (Vancouver Jazz Fest, Victoria Jazz Fest, Edmonton Jazz Fest, Calgary YYZ Fest, Ottawa Jazz Fest, Markham Jazz Fest, Small World Music Fest (Toronto), Montreal Jazz Fest, Halifax Jazz Fest, St. John's Blues and Jazz Fest, Stan Rogers Folk Fest), Festival International de Jazz de Montréal (2008, 2011, 2012 2013), the Francofolies de Montréal (2006, 2007, 2009), Festival Alfonso Ortiz Tirado (2009, Sonora, Mexico), Harvest Jazz & Blues Festival (2009, Fredericton, N.B.), Festijazz de Rimouski (2007), Sunfest (2011, London, ON), APAP NYC (2013), Festival d'été de Québec (2011), Rythmes du monde du Saguenay (2009, Chicoutimi), Festival des traditions du monde (2008, Sherbrooke), Yonge & Dundas Square (2010, Toronto), JunoFest (2011, Toronto), Week-ends du monde au Parc Jean Drapeau (2008, Montréal), Musique du bout du Monde (2007, Gaspé), a sold out show at the TOHU (2008), Outremont Theatre (show taped for CBC Radio 2, 2007), among many others.