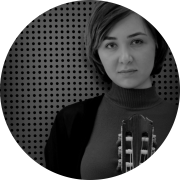 Leili
Guitar/Guitar (Classical)/Music Education/Music for Young Children/Theory
The first lesson is always a trial lesson.
If for any reason you are not happy we will fully refund any pending charges or help you find a new teacher. Your choice!
Subjects Taught
Guitar
Guitar (Classical)
Music Education
Music for Young Children
Theory
Lesson Locations
Teacher's Studio
Student's Home
Ages Taught
Children
Teens
Adults
Seniors
Levels Taught
Beginner
Intermediate
Advanced
Teaching Statement
Teaching, playing and simply coaching music enthusiasts to learn to play and enjoy music, brings myself so much joy! I truly love to see my students progress and to help them get THERE as fast as possible, and most importantly, to help them enjoy every step of it along the way.
Although I come from a very classical background, I am very open to other styles, simply because I think music has to express the true self. If somebody feels that pop music expresses their feelings better and they can connect to it, I'll help them go deeper in that direction. In the meantime, I encourage everybody to explore other styles too; maybe they will discover a new kind of joy and expression.
That is why I always ask my students or their parents to fill out a questionnaire and share their musical goals, wishes, interests, even fears and frustrations with me so that I can structure a systematic approach for them and plan the lessons specifically for their needs. And of course I'll share it with them all the time. Also, I'll frequently provide detailed reports and re-discuss our next few months with them.
Education
Bachelor of Guitar from Vienna Conservatory of Music (Konservatorium Wien)
Grade 8 of Trinity College Music Certificate in Guitar
Biography
Started musical education and classical guitar lessons at the age of 9 and was dedicated to being a musical professional throughout the years. After passing a competitive audition at the world-known music school Vienna Conservatory of Music (Konservatorium Wien) in Austria at the age of 17, I started my intensive performance education there and enjoyed gaining knowledge and experience from great professors for 4 years.
Have been teaching the guitar to children, teens and adults ever since I was a music student in Vienna. Have been teaching at the Vienna Teacher's Club and Sauder Chabad School in Vienna. In addition to that, I have taught more than 1000 hours of private lessons in Vancouver.
Studio Policies
Learning can be much more efficient if everything is organized. So I'd love you guys to prepare some stuff for your lessons such as:
Have a notebook to keep track of everything you need to do and remember and have it present at all the lessons.
Have a MUSIC notebook as well.
Have a tuner or install a tuner app on your smart phone (Cuz guitars can be difficult sometimes and we want to hear the good sounds all the time )