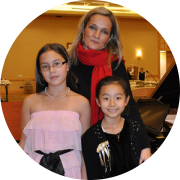 Dunja
Pedagogy/Piano/Piano (Classical)/Theory/Theory (Harmony)
The first lesson is always a trial lesson.
If for any reason you are not happy we will fully refund any pending charges or help you find a new teacher. Your choice!
Subjects Taught
Pedagogy
Piano
Piano (Classical)
Theory
Theory (Harmony)
Ages Taught
Children
Teens
Adults
Seniors
Levels Taught
Beginner
Intermediate
Advanced
Languages
English
German
Serbian
Croatian
Biography
Dunja has been teaching piano for over 20 years, since 1988. She holds degrees equivalent to a Bachelor's in Piano Performance and a Master's in Piano Pedagogy and Music Theory from Robert Schumann Hochschule in Dusseldorf, Germany (Staatsexamen mit Hauptfach Klavier). She also studied music at the University of Sarajevo. Having moved to Canada from Europe 10 years ago, she is also certified in teaching the Kelly Kirby method to children as young as 4 years old. Ms. Dunja teaches students of all ages and all levels. Several of her students have continued their music studies in post secondary institutions, majoring in piano. Her students have gained recognition, including various Canadian Music Competitions prize-winners, highest marks RCM Examinations, and University entrance scholarships. Ms. Bohinc has trained teachers as well, who have gone on to achieve the ARCT diploma in both Piano Performance and Piano Pedagogy (Elementary, Intermediate, Advanced) from the Royal Conservatory of Music.
Ms. Dunja believes that music education is very important in a child's well rounded education and an enriching experience in every child's life. Learning an instrument can enhance a student's self- esteem and confidence and have a great influence on their physical, social and emotional development.