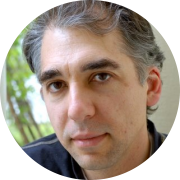 Dimiter
Accompaniment/Ear training/Piano/Theory (Harmony)/Theory (Rudiments)
The first lesson is always a trial lesson.
If for any reason you are not happy we will fully refund any pending charges or help you find a new teacher. Your choice!
Subjects Taught
Accompaniment
Ear training
Piano
Theory (Harmony)
Theory (Rudiments)
Ages Taught
Children
Teens
Adults
Seniors
Levels Taught
Beginner
Intermediate
Advanced
Languages
English
Russian
Bulgarian
Teaching Statement
Dimiter started his teaching career in 1991 in his native Bulgaria where he taught piano, music appreciation, harmony, music aesthetics, and instrumentation. After his move to Canada in 1995, he first taught an aural musicianship course at Concordia University in Montreal, becoming the first graduate student EVER to be appointed a sessional instructor at Concordia's music department. Dimiter was also involved in coaching and accompanying numerous singers and instrumentalists.
In 1997 Terziev moved to Edmonton where he was appointed teaching assistant in piano at the University of Alberta. He later became a faculty member of Lakeland College in Lloydminster and Visionary College in St. Albert. Dimiter has been living in Interior British Columbia since 2002. He teaches piano at his private studio in the Upper Sahali Area of Kamloops as well as in Cache Creek and Ashcroft, BC. He works with students of all levels and has many successful participants in local festivals and exams.
About teaching:
"Each piano student is unique and the teacher's flexibility is vital. One student wants to have fun playing "Looney Tunes" or "Amazing Grace" and another aspires to study a Beethoven sonata or a Chopin ballade. There is enough room for both in the world of music, and both paths deserve the same level of respect and encouragement. I enjoy the diverse goals and abilities of my students, and I feel proud to contribute to my students' music sensitivity and personal development.
In a nutshell, my piano teaching can be summarized by two ancient proverbs:
"TO TEACH MEANS TO LEARN"
and
"A STUDENT IS NOT LIKE A POT THAT NEEDS TO BE FILLED, BUT LIKE A CANDLE THAT NEEDS TO BE LIT"
Education
Master of Music - University of Alberta
Diploma of Advanced Music Performance Studies - Concordia University
Bachellor of Music Equivalent - National Academy of Music in Sofia, Bulgaria
Biography
Dimiter was born in Sofia, Bulgaria, where he graduated from the National Academy of Music in 1992. After three years of teaching in Bulgaria, he moved to Canada where he earned a Diploma of Advanced Music Performance Studies from Concordia University in Montreal and a Master's in piano performance from the University of Alberta in Edmonton. Throughout his studies, he had the opportunity of working with a number of distinguished piano teachers such as Antoaneta Arsova, Milena Mollova, Nikolai Evrov, Dr. Anna Szpilberg, and Dr. Stephane Lemelin.
Dimiter has been living in Kamloops, British Columbia since 2002; He is teaching at his private studio in the Upper Sahali, as well as the Kamloops Symphony Musid School. He is also an accompanist of the Sage Singers Choir in Ashcroft.
Dimiter has performed numerous piano and chamber recitals in Canada, USA, Bulgaria, Germany, and the Netherlands. He has also performed with several Bulgarian orchestras and the Kamloops Symphony. Dimiter was also awarded third prize at the Chopin National Competition in Bulgaria in 1989.
Dimiter's debut CD Colours of Bulgaria: Piano Pieces by Pantcho Vladigerov was awarded Four Stars both by the CBC's Sound Advice and La scena musicale magazine. His other successful recordings are Nocturnal World (an anthology of nocturnes by various composers), The Beginning and End of Classicism (a history of Classicism in music from J.C. Bach to the late Beethoven), and Anger and Hope: Beethoven - Late Works
Dimiter is a member of the British Columbia Registered Teachers' Association and Chamber Musicians of Kamloops .
Aside from music, he enjoys hiking, reading, and watching movies.
"Master of stirring mystery of sound ... His playing constantly moved between poetry and passion."
(Badische Zeitung, Germany)
"He is a musician of deeply reasoned convictions, who already has a well-defined understanding of his own artistic voice. He is a musician who thinks at the piano and who has the gift of communicating his artistic vision in an engaging manner."
(Dr. Stephane Lemelin, Canada)