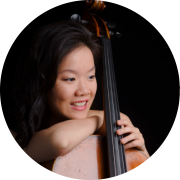 Zhou
Aural Training/Cello/Ear training/Piano/Theory
The first lesson is always a trial lesson.
If for any reason you are not happy we will fully refund any pending charges or help you find a new teacher. Your choice!
Subjects Taught
Aural Training
Cello
Ear training
Piano
Theory
Lesson Locations
Teacher's Studio
Student's Home
Ages Taught
Children
Teens
Adults
Seniors
Levels Taught
Beginner
Intermediate
Advanced
Teaching Statement
Zhou mise sur un processus d'apprentissage visant à acquérir une solide base de techniques pour une maîtrise globalisatrice de l'instrument. Cette partie rigoureuse de la leçon est abordée de manière naturelle, organique et adaptée aux besoins de l'élève. Le tout est couronné par une exploration des différents styles musicaux parmi la richesse du répertoire pour le violoncelle. De plus, des collaborations avec piano et de deux violoncelles seront prévues durant les leçons. Aussi, un entraînement en solfège et des communiqués d'astuces théoriques complèteront l'apprentissage, au besoin. Et finalement, pour ceux et celles qui le désirent, des projets d'apprentissage plus structurés tels que la préparation pour un concert/récital ou une performance devant jury seront encouragés.
//
Zhou abides by a learning process enabling the student to acquire a solid foundation for a globalizing technical mastery of the instrument. This rigorous part of the lesson is implemented in natural and organic ways, tailored to each student needs. The whole is crowned by an exploration of different musical styles from the rich repertoire for the cello. In addition, collaborations with piano and between two cellos will be provided during the lessons. Also, ear training and tips on music theory complement the learning process. Finally, for those who wish additional challenges and structured learning project, jury examinations and concerts/recitals will be encouraged.
Education
Cello Apprentice at the National Arts Center Orchestra //
Maîtrise en musique interprétation solo - Université de Montréal //
Bachelor in Music Performance - McGill University Schulich School of Music
Biography
Membre de la troisième génération d'une famille de musiciens, Zhou complète en 2013 une maîtrise en musique de l'Université de Montréal sous la tutelle de Carole Sirois et de feu Yuli Turovsky (fondateur de l'Orchestre de chambre I Musici de Montréal). Auparavant, elle a obtenu son baccalauréat à la Schulich School of Music de l'Université de McGill. Son passage universitaire l'amène également au Glenn Gould School à Toronto et à l'Université de Calgary où elle eut l'unique opportunité de collaborer avec le violoncelliste légendaire Lynn Harrell. Finaliste nationale au Concours de musique du Canada, Zhou interprète le concerto de Lalo avec l'Orchestre symphonique de Pierre-Laporte à l'âge de 14 ans.
Au courant des dernières années, partageant son horaire entre la performance et l'enseignement, Zhou participe notamment au Festival international du Domaine Forget, au Scotia Music Festival, au Morningside Music Bridge à Shanghai en Chine et au Wiener Musikseminar à Vienne en Autriche. En automne 2013, Zhou prend part au prestigieux Institut orchestral du Centre national de arts à Ottawa sous la direction de Pinchas Zukerman. Elle se joint ainsi à la tournée historique de concerts et d'activités éducatives de l'orchestre du CNA en Chine. En outre, son expertise l'a amenée à se produire aux côtés des membres de l'Orchestre symphonique de Québec, du Nova Scotia Symphony et du San Francisco Symphony.
//
Hailing as the third generation of a family of musicians, Zhou completes in summer 2013 a Master of Music from the University of Montreal under the tutelage of Carole Sirois and the late Yuli Turovsky (founder of the chamber orchestra I Musici de Montreal). Previously, she received her Bachelor of Music from the Schulich School of Music at McGill University. Her academic path also led her to the Glenn Gould School in Toronto and the University of Calgary where she had the unique opportunity to work and perform along the sides of legendary cellist Lynn Harrell. Twice national finalist at the Canadian Music Competition, Zhou plays the Lalo Concerto with the Orchestre symphonique de Pierre Laporte at the age of 14.
Dividing her time between performing and teaching, Zhou participated, among others, in the International Festival of the Domaine Forget, in Scotia Music Festival, Morningside Music Bridge in Shanghai, China and Wiener Musikseminar in Vienna, Austria . In fall 2013, Zhou took part of the prestigious Institute for Orchestral Studies at the National Arts Centre in Ottawa under the direction of Pinchas Zukerman. She joins the historic tour of concerts and educational activities of the NAC Orchestra in China. In addition, her expertise brought her to perform alongside members from the Orchestre Symphonique de Québec, the Nova Scotia Symphony and the San Francisco Symphony.


Studio Policies
24-hour cancellation notice.