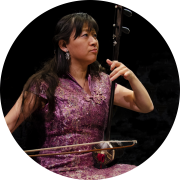 Lan
Erhu/Improvisation/Music Therapy
The first lesson is always a trial lesson.
If for any reason you are not happy we will fully refund any pending charges or help you find a new teacher. Your choice!
Subjects Taught
Erhu
Improvisation
Music Therapy
Ages Taught
Children
Teens
Adults
Seniors
Languages
English
Cantonese
Mandarin
Teaching Statement
In the modern world, many people ask to see results right away and ask what's the shortest time one can learn to play the erhu. Learning music is not like consuming fast food. It requires patience and dedication. I believe in giving the students a good foundation in basic techniques. This is in fact the most efficient way to learn the erhu to save extra time and energy trying to correct bad habits in the future.
Education
Lan started erhu studies at a young age in Taiwan. She majored on erhu performance at the Chinese Cultural University in Taiwan, where she has won numerous first prizes in national music competitions. She has studied with the world-renowned erhu virtuosi Jebing Chen in California and Fun Ming Zhang in Beijing. In addition, Lan has studied improvisation with Mary Oliver in Amsterdam, graphic notation with Barry Guy in Switzerland, Hindustani music with Kala Ramnath in Bombay, Egyptian music with Dr. Alfred Gamil in Cairo, and Uyghur music with Abdukerim Osman in western China. With the Magpie Music & Dance Company in Amsterdam, Lan explored the relationship between physical and audio spaces through improvisation. From 2007 to 2009 at the Vancouver Creative Music Institute, she has studied and performed with Han Bennink (Holland), Barry Guy, Evan Parker, John Butcher (UK), Francois Houle, Paul Plimley, Giorgio Magnanensi…etc.
Biography
Playing a dynamic role in the Canadian music scene, Lan Tung is an erhu soloist, composer, improviser, and producer. Lan is the artistic director of the Orchid Ensemble, Sound of Dragon Society, and Proliferasian. Lan has appeared as a soloist with Orchestre Metropolitain (Montreal) and Symphony Nova Scotia, and as a soloist/composer with Vancouver Symphony Orchestra, Turning Point Ensemble (Vancouver), Upstream Ensemble (Halifax), Atlas Ensemble (Amsterdam & Helsinki), and Little Giant Chinese Chamber Orchestra (Taipei).
Originally from Taiwan, Lan creates a new voice that draws inspiration from her background in Chinese music, with influences of western contemporary music, creative improvisation, and various ethnic styles. Her rhythmic intricacy has a direct influence from Indian music, while her passionate melodies from Flamenco and Central Asian music, and the sense of breath/space from Chinese music. She uses elements of traditional music as bridges to connect between Asian and western ears, while experimenting with contradictions by taking culturally specific materials outside their context and fusing them with other genres.
Working inter-disciplinarily, she is the music director of TomoeArts' Weaver Woman and has collaborated with Moving Dragon (dance), Pangaea Arts (theatre), Aeriosa (dance), Flicker Arts Collaboratory (media arts), Sutrisno Hartana (Indonesian dance), and Mozaico Flamenco Dance Theatre.
Lan tours regularly internationally, giving over 70 performances at concert halls, festivals, universities, and schools in Canada, US, Europe and Asia.
Lan is fluent in English, Mandarin and Cantonese and has over 20 years of teaching experiences.
Lan has a Bachelor of Music Therapy degree from Capilano University and has worked with senior homes for over 10 years.
Studio Policies
no lesson before 11am or after 11pm.
30 min lesson is for children under 10 years old.
45 min lesson is for children under 12 years old.
please contact me and check availability because I do go on tour for periods of time sometimes.