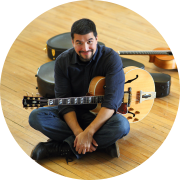 Carlos Alberto
Ear training/Guitar/Guitar (Jazz)/Improvisation/Theory (Jazz)
The first lesson is always a trial lesson.
If for any reason you are not happy we will fully refund any pending charges or help you find a new teacher. Your choice!
Subjects Taught
Ear training
Guitar
Guitar (Jazz)
Improvisation
Theory (Jazz)
Education
M.Mus Jazz Performance, McGill University 2008
B.Mus Jazz Performance, McGill University 2006
DEC Classical Guitar, École de musique Vincent d'Indy 2000

Biography
Jazz guitarist, teacher and composer
DISCOGRAPHY
Eric Harding Quartet, Fortune Calls (2015) EHARDIN2516
Carlos Jimenez, Jogo (2013) CAJMUSIC CD002
Jean-Nicolas Trottier 10tet, Blue Lines (2012) Independant
Josh Rager, Kananaskis (2011) Effendi FND116
Carlos Jimenez, Undercurrents (2011) CAJMUSIC CD001
Jacintha Luis, Resurgence (2010) Independant
Joe Sullivan Big Band, Stop and Listen (2006) Effendi FND068
Trio Daniel Lessard, Pas à Pas (2005) Propella MP20052
ENDORSEMENT
K&K Sound Natural Pickup Power
Carlos Jiménez is a very active musician on the Montreal jazz scene.
In the past few years, he has shared the stage with some of the most expressive names of Canadian jazz such as Josh Rager, Jean-Nicolas Trottier, Dave Watts, Jessica Vigneault, Vanessa Rodrigues, Fraser Hollins, Joel Miller, Frank Lozano, Daniel Lessard, Kevin Dean, Andre White, Joe Sullivan, Rémi Bolduc, Brian Hurley, Eric Harding and Steve Amirault. His versatility and ability to play various styles on both electric and classical instruments has made him a first choice guitarist for various projects.
His first recording as a leader entitled Undercurrents, released in March 2011 featured his quartet in a set of original music. In December 2013 he released a new trio album entitled JOGO. A collection of modern jazz standards, brazilian songs and original compositions. Surrounded by Montreal heavyweights Fraser Hollins on bass and Richard Irwin on drums, Carlos Jiménez presents a joyful set of music, exploring various styles and grooves.
Along with his work as a sideman, Carlos Jiménez was featured on various recordings and radio shows such as Jazz Beat and Canada Live, produced by the CBC. He has also collaborated to the soundtrack of the Oscar winning short movie The Danish Poet, produced by the National Film Board of Canada. In 2009, he received a studying grant from the Canada Council for the Arts to study with American guitarist Adam Rogers, in New York. Carlos Jiménez currently teaches Jazz Guitar at College Vincent d'Indy in Montreal. He is also on faculty at the Schulich School of Music of McGill University. He holds a Master's degree and a Bachelor's degree in Jazz Performance from McGill University.