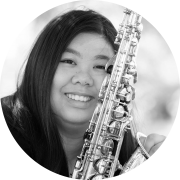 Tina
Accompaniment/Clarinet/Piano/Saxophone/Theory
The first lesson is always a trial lesson.
If for any reason you are not happy we will fully refund any pending charges or help you find a new teacher. Your choice!
Subjects Taught
Accompaniment
Clarinet
Piano
Saxophone
Theory
Ages Taught
Children
Teens
Adults
Seniors
Levels Taught
Beginner
Intermediate
Advanced
Teaching Statement
I am a classically trained saxophonist and pianist with 10 years of teaching experience.
I have a strong passion for teaching students of all ages. I am able to teach students to see music on a whole new level, enjoying, loving and sharing their experience with others. I believe in well roundedness and setting strong fundamental instrument technique, musicianship, and music theory so that they can learn and understand music. My goal is to instill in my students a lasting appreciation, love and joy for understanding the art and beauty of music. I believe that learning how to practice smart is the paramount to success and happiness in musical pursuits. Each student has different needs, learning approach and capabilities. As a teacher, being able to understand students fully and to teach them to the best of their abilities helps them to become a better musician. At the same time, I also grow as a teacher, which is key to teaching students better. As they learn, they explore their interest in different music styles and/or certain songs to keeping their interest going.
Education
Saxophone Studies - University of British Columbia (2006-2011)
Artist Diploma in Saxophone - Vancouver Academy of Music (2017-2019)
Biography
Tina Wang is a multi-instrumentalist and a sought out music instructor based in Vancouver, BC. Equally passionate and dedicated to music teaching, performing, accompaniment and the art of chamber music, Tina has a wide-ranging experience on the saxophone, piano, and other instruments. For over 10 years she has taught saxophone, piano and clarinet privately, ranging from beginner to college level as well as collaborating as a pianist with other instrumentalists.
​
As a very proficient pianist before turning to the saxophone, she has had 20 years of piano studies with various instructors, and received several awards in the regional music festivals and competitions. Tina has performed with the UBC Concert Winds, UBC Wind Ensemble, UBC Jazz ensemble, New Westminster District Concert Band and Delta Concert Band, playing soprano, alto, tenor and baritone saxophone. She is currently actively playing with the Pacific Symphonic Wind Ensemble (alto saxophonist), Sax Noir Quartet, Douglas College Wind Band (section leader & coach), Flying Tonkatsu; an anime group ensemble (clarinet, saxophonist, pianist), Opus Arise (sessional keyboardist) and a guest performer in the BC Chinese Orchestra. Tina believes strongly in the importance of diversity of music and can be found involved with a wide variety of ensembles and music projects, in styles ranging from classical to contemporary, jazz and symphonic metal on a variety of instruments.
​
Recognized as a 'Teacher of Distinction' by the Royal Conservatory of Music in 2018, Tina is a passionate teacher who loves working with students of all levels and ages. She loves nurturing the talents of young musicians. Tina teaches out of her own saxophone studio, Phoenix Music Academy, and is also on the faculty at the Vancouver Academy of Music (VAM) and co-directs the VAM Saxophone Ensemble Program. The ensemble consists of several young avid elementary and high school musicians that participate in community performances as well as music festivals. Tina works with students of all ages and levels from all over Greater Vancouver. Her students have achieved high placements and recognition in their own schools as well as in local and national music competitions and festivals as well as successful auditions for the British Columbia Honour Band, the National Youth Band of Canada, Tanglewood Music Institute, and Interlochen World Youth Wind Ensemble. Her students also have successful auditions and applications to University programs such as University of British Columbia, New York University, and other university music programs. Tina is also a clinician in some of the local elementary and high school programs.
Tina holds a Bachelor of Music degree from the UBC School of music where she completed her saxophone studies under Dr Julia Nolan. She is currently in completion of her Artist Diploma at the Vancouver Academy of Music. She has also had the opportunity to study with international renown saxophonists in workshops and masterclasses such as Eugene Rousseau, Timothy McAllister, Otis Murphy, Kenneth Tse, Chien-Kwan Lin and Carrie Koffman.
Tina is a Key Leave Artist and member of the North American Saxophone Alliance, World Saxophone Congress, and the BC Registered Music Teachers Association.
Studio Policies
- No last minute lesson cancellations, must give 24 hours notice otherwise class fee will be charged