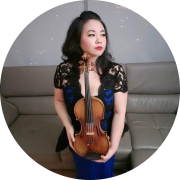 Joanna
Chamber Music/Music Education/Strings/Theory (Rudiments)/Violin
The first lesson is always a trial lesson.
If for any reason you are not happy we will fully refund any pending charges or help you find a new teacher. Your choice!
Subjects Taught
Chamber Music
Music Education
Strings
Theory (Rudiments)
Violin
Lesson Locations
Teacher's Studio
Student's Home
Ages Taught
Children
Teens
Adults
Seniors
Teaching Statement
I believe that anyone can learn the violin and excel. It takes a lot of patience, persistence, and more importantly, hard work. Personal goals are equally important; whether a student is learning simply for pleasure or going for an exam/competition.
Education
Doctorate of Musical Candidate at UBC School of Music (In progress)
Master of Musical Arts - New Zealand School of Music
Bachelor of Music degree in violin performance - McGill University
Biography
Korean-Canadian violinist, Joanna commenced piano lessons at the age of 3. Two years later, she took up the violin. Her musical activities involved technique classes, theory and orchestra at the Vancouver Academy School of Music. At the age of 7, Joanna began competing at local music festivals and eventually progressed to provincial, national and international level.
At the age of 12 Joanna moved to Edmonton where she studied with retired ESO concertmaster and Curtis Music of Institute alma mater, James Keene.
During her summers, Joanna attended several music festivals including Summit Music Festival in New York and Banff Arts Centre where she studied with world-reknowned teachers such as Aaron Rosand, Chin Kim, Lucie Robert, Ilya Kaler, Oleh Krysa and Roland Vamos.
For her undergraduate studies, Joanna attended McGill University where she received her Bachelor of Music degree in violin performance. There, she studied under the tutalege of Andrew Dawes, Mark Fewer and Richard Roberts.
Upon graduation, Joanna became a faculty member of MacEwan University where she taught private violin lessons at the Alberta College Campus and performed as a soloist and a chamber musician. Several of her students have been awarded numerous prizes and scholarships in the Edmonton Kiwanis Festival and the Royal Conservatory of Music.
A couple of years later, Joanna received an invitation to study with former ESO concertmaster, Martin Riseley at the New Zealand School of Music, where she pursued a Master of Musical Arts in one year. At NZSM, Joanna participated in Concerts, Music forums, Orchestra and Masterclasses with violinists Cho-Liang Lin and Schmuel Askenasi.
Upon graduation, Joanna enjoys performing both as a soloist and a chamber musician and teaching at her home studio in Vancouver. As a teacher, she works towards catering the needs of each individual, whether it may be learning music for fun, re-gaining confidence or preparing for competitions or exams.
Recently, Joanna was appointed in the fall as faculty at the Vancouver Community College Broadway Campus. Her method of teaching caters to each student's needs.
Currently, she is finishing a Doctorate of Musical Arts Degree at UBC School of Music on a Scholarship. During the school year, she finds time to perform with several groups such as Chilliwack Symphony, Okanagan Symphony Orchestra, Vancouver Island Symphony Orchestra, Plastic Acid, Kamloops Symphony, Prince George Symphony, etc.,
Studio Policies
If student is unable to make the lesson, there must be a notice of at least 48 hours, and then a make-up lesson will be rescheduled. If there is less than 48 hours notice, then the lesson will be marked and there will be no make-up lesson.