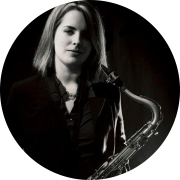 Beth
Clarinet/Composition/Flute/Improvisation/Saxophone
The first lesson is always a trial lesson.
If for any reason you are not happy we will fully refund any pending charges or help you find a new teacher. Your choice!
Subjects Taught
Clarinet
Composition
Flute
Improvisation
Saxophone
Ages Taught
Children
Teens
Adults
Seniors
Levels Taught
Beginner
Intermediate
Advanced
Education
Bachelor of Music - Jazz Saxophone/Music Education - McGill University, class of 2013
Bachelor of Education - Music - Elementary and Secondary - McGill University, class of 2013
Biography
Born in New Glasgow, Nova Scotia --- Beth has been an active musician since the young age of 9 years old, starting out as a clarinettist. She quickly switched over as of grade five onwards onto the tenor saxophone. Since completing her high school education in Nova Scotia, Beth now calls Montreal, Quebec her home, where she has successfully completed a Concurrent Bachelor of Music (Major Music Education - Jazz Saxophone - With additional studies in Jazz Performance) and a Bachelor of Education (Music: Elementary and Secondary) from McGill University's Schulich School of Music as well as a minor in Political Science: International Relations. Beth performs professionally on flute, clarinet and saxophones (tenor, alto and soprano), and also doubles on piccolo and piano as secondary instruments, with basic profiency on trumpet, trombone, french horn, voice and percussion. Beth also gigs professionally on her AKAI 4000S EWI (Electric Wind Instrument) in Montreal's Funk/R&B and electro-contemporary music/experimental music scene.
​
Beth has studied with some of the top jazz musicians in Canada's music industry while living in Montreal, including saxophonists Chet Doxas, Remi Bolduc, Christine Jensen, Donny Kennedy and guitarist Kenny Bibace. She has also had opportunities to work with Toronto-based saxophonists Kelly Jefferson and Mike Murley. Beth has also participated in the jazz orchestras at McGill, having rehearsed and performed in ensembles under the direction of Ron di Lauro, Gordon Foote and the late Jan Jarczyk.
Beth continued her composition studies independently into the 2013-14 year, studying with two mentors: with jazz pianist/bandleader John Roney and two-time JUNO award winning composer, saxophonist and renowned bandleader Christine Jensen. Beth has also studied jazz composition in New York City with renowned composers Darcy James Argue (Darcy James Argue's Secret Society) and Jim McNeely (Vanguard Jazz Orchestra, Thad Jones, BMI Jazz Composers Workshop)--as part of two consecutive grants for up-and-coming artists from the Conseil des arts et lettres du Quebec (CALQ).
Beth McKenna Jazz Orchestra's first public performance will take place in January 2015 independently with an evening of premieres of eight of her original works with her full 18 piece jazz ensemble. She is currently working towards a professional career as a jazz composer and band leader through development and study with her mentors and directing her jazz orchestra, consisting of eighteen of Montreal's top upcoming talented musicians, selected by her on an artistic/performance-level basis, attitude in prior collaborations, open-mindedness, as well as their work-ethic and dedication to projects and their own artistic growth.
Beth has received a 2nd grant from the CALQ to continue her Jazz Orchestra project and development as a composer and bandleader with the mentorship and support of Christine Jensen and Darcy James Argue. She will be launching her second demo CD, "Home: Montreal" with 18 musicians in March of 2016. The multi-movement work which runs for a duration of more than 50 minutes, is uniquely inspired by seven locations in Montreal, reflecting and re-illustrating these spaces via soundscapes, contemporary jazz, groove and popular influences which sum up Beth's unique compositional style.
She combined professional artists from both the francophone and Anglophone populations in Montreal, which created many new friendships between band members and connections for all musicians involved, and tied the Montreal music scene closer and with stronger connections from many of the upcoming next-generation of musicians in the scene. Many of the musicians involved in the project are collaborating with each other in additional gigs and projects now since meeting, enriching Montreal's music scene and culture while creating a new ensemble, a new jazz orchestra sound with outreach to the mainstream listeners, attracting larger audience to the jazz community, creating more demand for jazz music and live musicians.
Beth's inspirations for writing and composing come from personal life experiences, places, events which have taken place and certain people who have played a role in shaping her life. She strives to retell stories from her life through music, allowing the music to inspire the listener to visualize situations she is retelling or places she is describing, while still writing in a mixed genre and style that appeals to a wide range of critics and listeners.
Studio Policies
24hrs required for cancellation or lesson will still be charged to student. $45/hr for lesson.