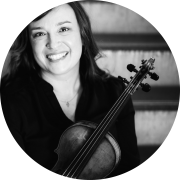 Mary-Elizabeth
Chamber Music/Suzuki Method/Violin
The first lesson is always a trial lesson.
If for any reason you are not happy we will fully refund any pending charges or help you find a new teacher. Your choice!
Subjects Taught
Chamber Music
Suzuki Method
Violin
Ages Taught
Children
Teens
Adults
Seniors
Levels Taught
Beginner
Intermediate
Advanced
Teaching Statement
Finding roots in Suzuki's talent education method and the belief that all children can learn, lessons draw upon the influences of Galamian, Flesch, Paul Rolland, Mimi Zweig, Maria Montessori, Dalcroze, Orff and others. The ultimate goal is to educate happy, healthy and well-rounded young musicians who have the technical, theoretical and expressive means to enjoy a lifetime of music, regardless of which path or profession they choose.
Basic principals:
-Every child has the ability to learn and brings his or her own unique and positive qualities. All students aged 3+ are welcome, regardless of their current level of ability, learning challenges, physical development or socio-economic background (including adults!)
-Daily practice is essential. Efficient practice is the key to success.
-The cultivation of musical excellence and a fine character go hand in hand as we strive to do our best, develop discipline and appreciate hard work.
-A positive and patient environment is essential for productive lessons and practice. Happy kids learn better.
-Aural development and technical facility should be developed in tandem from an early age.
-An adult should never do for a child something which he or she can do for him/herself.
-A well-rounded music education includes the development of a complete skill-set: technical proficiency on the instrument; the ability to perform in a healthy way; awareness of style and form; a practical knowledge of music history, rudiments and harmony; fluency in aural skills and solfeggio; and the ability to make music with others. These should be taught from the first lesson.
-A student's musical development (and the methods for teaching) should be directly related to his or her age and cognitive development.
-Parents are partners in their children's musical education and should be actively involved in lessons and daily practice. It is the job of a teacher to nurture the parent-child relationship.
Education
D. Mus Université de Montréal
M. Mus Université de Montreal
Hons. B. Mus University of Toronto
Suzuki Teacher Training Books 1-5
Biography
Dr. Mary-Elizabeth Brown enjoys successful parallel careers as a performer and pedagogue. She is a sought-after teacher, clinician, adjudicator and speaker in Canada and abroad. As a private studio teacher, her students have excelled in both exams and competitions, and have been accepted into Canada's major post-secondary performance program. She is a member of the Royal Conservatory of Music's College of Examiners.
As a concert violinist, she earned accolades for her "ability to unfold bittersweet magic" (Rhein Main Presse) and " impeccable accuracy and rhythmic precision" (Le Devoir). She has appeared as an invited soloist with orchestra more than forty times in Europe, Asia, North and South America, and can be heard playing Mozart's last 3 violin concerti on the recently released "Mozart Effect" recordings.
Mary-Elizabeth welcomes pupils ranging from "twinklers" to young professionals at her studio in Rosemont (Montréal) and via Skype worldwide
Studio Policies
48 hours notice is required to cancel or reschedule a lesson. Regular weekly lesson times are available from September to June.