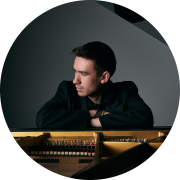 Devon
Composition/Music Recording/Piano/Theory/Trombone
The first lesson is always a trial lesson.
If for any reason you are not happy we will fully refund any pending charges or help you find a new teacher. Your choice!
Subjects Taught
Composition
Music Recording
Piano
Theory
Trombone
Ages Taught
Children
Teens
Adults
Seniors
Levels Taught
Beginner
Intermediate
Advanced
Education
B.Mus. (UBC)
Instrument Studies:
Bass Trombone: Ilan Morgenstern, Jeremy Berkman, Andrew Poirier, and Brian Wendel.
Piano: Meijane Quong (KPU) and Amanda Chan (UBC).
Band and Symphony Directors: Scott MacLennan (KPU), Tom Shorthouse (KPU), and Robert Taylor (UBC).
Composition: Edward Top (UBC).
Biography
Devon Throness is a graduate of the Bachelor of Music program at The University of British Columbia and teaches in his home studio, as well as in the Greater Vancouver Area. His passion for music has inspired him to study a wide variety of instruments such as the Trombone, Trumpet, Tuba, Voice, and Piano. He also finds himself exploring the fields of composition, jazz, recording, and improvisation. Devon was the recipient of the Surrey Teachers' Association Scholarship and the Dogwood District Authority Scholarship for Fine Arts upon his graduation from Tamanawis Secondary School in 2016. After graduating with his B.Mus, Devon intends to supplement his degree with a Masters in Composition; his ultimate goal is to secure a position as a faculty member in the university setting.