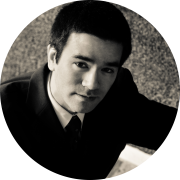 Scott
Accompaniment/Piano/Piano (Classical)/Theory (Rudiments)
The first lesson is always a trial lesson.
If for any reason you are not happy we will fully refund any pending charges or help you find a new teacher. Your choice!
Subjects Taught
Accompaniment
Piano
Piano (Classical)
Theory (Rudiments)
Ages Taught
Children
Teens
Adults
Seniors
Education
DMA Indiana University
MM Indiana University
BM/BA Oberlin College
Biography
Canadian pianist Scott Meek, first-prize winner of three national competitions (Knigge 2008, Shean 2002, and National Music Festival 1998), has debuted as soloist with some of the leading orchestras in Canada: with the Toronto and Winnipeg Symphonies in 2006, and with Edmonton Symphony in 2004. In Edmonton, he received re-engagements in 2005 and 2007. Scott has performed under conductors Robert Bernhardt, Glen Cortese, Eric Dudley, William Eddins, Rei Hotoda, David Hoyt, and Charles Olivieri-Munroe.
Described by the Winnipeg Free Press as a "consummate musician" who plays with "near-impossible fluidity" and "total physical involvement and passion," Scott has also performed solo recitals for the University of British Columbia's Noon Hour Recital Series (2008) and the Women's Musical Club of Winnipeg (2003).
In competitions, Scott has repeatedly shown his consistency: internationally, he has won 3rd prizes at the Corpus Christi International Competition (2006) and at the World Piano Competition in Cincinnati Ohio (2005); and locally, he has won prizes from the Indianapolis Matinee Musicale (2009, 1st prize), the Women's Musical Club of Winnipeg (1999-2000), and the Manitoba Registered Music Teachers' Association (1997, 1st prize), among others. Scott has also received grants from the Canada Council for the Arts and the Manitoba Arts Council.
An enthusiastic supporter of new music, Scott has an extensive repertoire of music written in the 20th and 21st centuries from all over the world. In 2007, he received 2nd prize in the prestigious Eckhardt-Gramatté National Music Competition for contemporary music in Brandon, Manitoba.
As a collaborative pianist, Scott has played with a wide variety of instruments from duos to sextets. In addition to accompanying over thirty recitals during his studies at Indiana University, Scott has collaborated with virtuoso violinist and University of Manitoba faculty member Oleg Pokhanovski in a recital in Winnipeg, Manitoba, and has performed at the Kennedy Center in Washington, D.C. as a representative of Oberlin College in the Millennium Stage Conservatory Project series. Currently, he is in high demand as a collaborative pianist in the Greater Vancouver area and is the studio accompanist of violin professor emeritus Taras Gabora. In addition, Scott performs in piano duos with Ross Salvosa (Meek-Salvosa duo), and with his wife Clare Yuan, and teaches at various music academies around the city.
Scott began piano studies at the age of six, taking lessons with Carole Pollard in Winnipeg, Manitoba, before enrolling at Oberlin College in Oberlin, Ohio, to earn his Bachelor of Music and Bachelor of Arts (East Asian Studies) degrees in 2005. At Oberlin, Scott was a winner of the annual concerto competition and played Prokofiev's Piano Concerto no. 3 with the Oberlin Orchestra as part of his prize. At the Indiana University Jacobs School of Music, Scott received his Master of Music and Doctor of Music degrees, studying under world-renowned pianist and Distinguished Professor, Menahem Pressler.