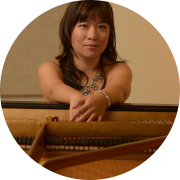 Lise
Accompaniment/Ear training/Piano/Piano (Classical)/Theory (Rudiments)
The first lesson is always a trial lesson.
If for any reason you are not happy we will fully refund any pending charges or help you find a new teacher. Your choice!
Subjects Taught
Accompaniment
Ear training
Piano
Piano (Classical)
Theory (Rudiments)
Lesson Locations
Teacher's Studio
Student's Home
Ages Taught
Children
Teens
Adults
Seniors
Levels Taught
Beginner
Intermediate
Advanced
Languages
English
Cantonese
Mandarin
Teaching Statement
As a music teacher, she is constantly searching for methods
which are more flexible and adapts herself to different students based on their abilities, goals, and
personalities.
Education
Artist Diploma at Montreal Music Conservatory
Bachelor Degree at McGill University
Biography
Originally from China,
Lise began to learn to play the piano at the age of six at
the Xinghai Conservatory of Music in Guangzhou.
In 2005, she immigrated to Canada with her parents and settled in Montreal. She holds a Bachelor's degree in piano performance from McGill University,
and an Artist Diploma from the Music Conservatory of Montreal.
In 2017 she relocated to Vancouver where she continues her performing and teaching career.
Currently, she's teaching at music schools and working as a class accompanist at professional ballet schools.
She began to teach piano, ear training, and theory to students since her years at McGill. Lise has also worked as an
accompanist for people performing vocals or other instruments.