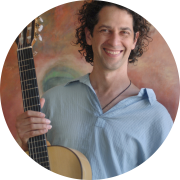 Itamar
Guitar/Guitar (Classical)/Guitar (Flamenco)/Guitar (Jazz)/Improvisation
The first lesson is always a trial lesson.
If for any reason you are not happy we will fully refund any pending charges or help you find a new teacher. Your choice!
Subjects Taught
Guitar
Guitar (Classical)
Guitar (Flamenco)
Guitar (Jazz)
Improvisation
Levels Taught
Beginner
Intermediate
Advanced
Teaching Statement
I am always happy to share my musical knowledge with my students!
I have a unique approach to finger-style guitar playing that is applicable to players of classical guitar, flamenco, jazz and other styles of music. I try to bring fun into the lesson, as this is an important aspect of making music, and depending on the level of the student, I support them in becoming better musicians by explaining the theory behind it, by practicing correct technique and by giving them the tools they need in order to excel in music!
Education
Postgraduate composition course at the Guildhall School of Music
BMus in composition, Jerusalem Academy of Music & Dance
Music studies (composition, theory) at the Music Hochschule Cologne & Duesseldorf
Private lessons in Piano, Guitar & music theory with various teachers
Biography
Itamar is a prize winning and internationally touring musician, currently living in Vancouver.
His playing is eclectic and draws from a wide range of styles, from Classical to Flamenco, and from Jazz to Brazilian music.
During 2014-15, Itamar performed in Canada, USA, Germany, Netherlands, Austria, Cyprus, Israel, India, Tunisia and Colombia.
His new book "Exercises & Etudes, an Advanced Method for the Fingerstyle Guitarist" was released March 2016.