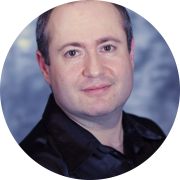 Anatoly
Clarinet/French Horn/Saxophone/Trombone/Trumpet
The first lesson is always a trial lesson.
If for any reason you are not happy we will fully refund any pending charges or help you find a new teacher. Your choice!
Subjects Taught
Clarinet
French Horn
Saxophone
Trombone
Trumpet
Lesson Locations
Teacher's Studio
Student's Home
Ages Taught
Children
Teens
Adults
Seniors
Levels Taught
Beginner
Intermediate
Advanced
Languages
English
Russian
Ukrainian
Hebrew
Teaching Statement
Music is an international language that unites us as humans and helps us communicate when all the words are spoken.
Music is my passion and I will gladly share it with you.
Education
1988-1992 R. Glier Kyiv Institute of Music (Ukraine)
Trumpet Performer, Brass and Woodwind Instruments Teacher, Band Conductor
Biography
I was born and grew up in Kiev, Ukraine, where I since the age of eight fell in love with music and started to pursue my musical career.
I developed and polished my performing and teaching skills at Glier National Music College of Ukraine.
I am a professional trumpet player and brass and woodwind instruments music teacher.
For the last fifteen years I combined performing experience with teaching career.
During these years I had a privilege to play in many orchestras, including The Kiev Municipal Orchestra (Ukraine), Big Band of National Circus of Ukraine, the Orchestra of Ghesher Theatre (Israel) and Ukrainian National TV and Radio orchestra, also teaching various skill levels and different ages.
Not only I played in different orchestras but I also was given an opportunity to meet wonderful musicians and play in different counties such as: Ukraine, Netherlands, Germany, USA, Israel and Russia. The wide range of styles I play and teach includes jazz, classical and marching band music.
Richmond, BC has become my home, where I live and teach in a private studio.