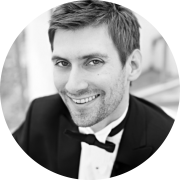 Benjamin
Accompaniment/Musicianship/Piano/Piano (Classical)
The first lesson is always a trial lesson.
If for any reason you are not happy we will fully refund any pending charges or help you find a new teacher. Your choice!
Subjects Taught
Accompaniment
Musicianship
Piano
Piano (Classical)
Ages Taught
Children
Teens
Adults
Seniors
Levels Taught
Beginner
Intermediate
Advanced
Teaching Statement
I have over ten years experience in teaching piano, having worked with a wide variety of demographics and ability levels from beginners to university level. My students range from retired adults to 5-year olds and have included students on the autism spectrum and even professional musicians looking to improve their keyboard skills.
My students have achieved success in solo recitals, festivals, Royal Conservatory examinations, and university auditions (at both undergraduate and graduate levels). While serving as president of the South Metro Atlanta Music Teachers Association, I judged several piano festivals and competitions, and I encourage my students to participate in these opportunities whenever possible. My own experience as a concert pianist in Europe, the United States and Canada informs my approach to teaching and my understanding of how to help students overcome difficulties in performing.
Education
BMus, Brandon University
MMus, Bowling Green State University
Artist Diploma, Columbus State University
Doctoral Student at L'Université de Montréal
Biography
Born in Winnipeg, Benjamin has completed three degrees in piano performance and currently is pursuing doctoral studies at L'Université de Montréal. His teachers have included Alexander Tselyakov, Thomas Rosenkranz, Joel Hastings, Alexander Kobrin, and Paul Stewart.
Benjamin appeared in masterclasses with Byron Janis, Robert Levin, Artur Pizarro, Seymour Bernstein, Dominique Weber, Dorian Leljak, Jose Ramon-Mendez, James Giles, and Pamela Mia Paul. Summer music festival appearances include Masterworks Festival (IN), Washington International Piano Festival, Clear Lake Chamber Festival (MB), Gijon International Piano Festival (Spain), and Porto PianoFest (Portugal).
Benjamin has drawn continued inspiration from Russian pianists, including two of his own teachers (A. Tselyakov and A. Kobrin), as well as Emil Gilels, Sviatoslav Richter, and Grigory Sokolov, whose tone production and individuality continue to serve as ideals in his playing. These formative influences all stem from the tutelage of legendary Moscow Conservatory artist teacher Heinrich Neuhaus. Russian composers have also been a primary interest, with works of Medtner, Rachmaninoff, Prokofiev, and Scriabin featuring prominently in his repertoire. Nikolai Medtner specifically, has been a composer of special focus for Benjamin, who frequently programs his works in an effort to shed light on this lesser-known giant of the keyboard repertoire. Recent performances include an appearance as guest artist at Porto PianoFest in a lecture performance of Medtner's "Night Wind" Sonata, a recital in 2015 featuring "Night Wind" along with works of Bach and Beethoven at Spivey Hall (GA), and in Fall 2014, a lecture performance for the Georgia Music Teachers Association on Medtner's life and music.
A committed chamber musician and duo partner, he has collaborated with members of the Boston Symphony, L'Orchestre symphonique de Montréal, Edmonton Symphony Orchestra, Bang on a Can All-Stars, and many others. In addition to frequent performances of the standard repertoire, Benjamin's projects have reached across five centuries covering music from Crumb, Reich, Adams, Pärt, and Judith Weir to Monteverdi, Rameau and Francois Couperin. He has collaborated on multi-discipline performances combining visual art and technology with music, performed John Cage on prepared piano, and studied harpsichord to gain deeper insight into interpreting Bach on the modern piano.
A passionate advocate for classical music, Benjamin endeavors to share music with diverse audiences as well as students. He has given numerous concerts for children and the elderly and appeared as guest artist and masterclass clinician at Southwestern College (KS), and Berry College in Rome, Georgia as guest recitalist. As a teacher, he has worked with widely diverse groups of students both as a private teacher, and in group classes. Prior to his move to Montréal, Benjamin served as president for his local chapter of the Music Teachers National Association and taught at the Clayton State University Music Preparatory School in Atlanta GA.
Studio Policies
My two criteria for new students are:
1. A good attitude (being teachable, with a desire to learn and improve) and
2. A commitment to working throughout the week at home on concepts learned in lessons (without sufficient practice there can be no progress).