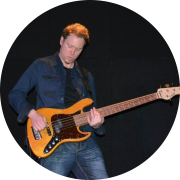 Scott
Bass Guitar/Ear training/Guitar/Theory (Harmony)/Theory (Jazz)
The first lesson is always a trial lesson.
If for any reason you are not happy we will fully refund any pending charges or help you find a new teacher. Your choice!
Subjects Taught
Bass Guitar
Ear training
Guitar
Theory (Harmony)
Theory (Jazz)
Lesson Locations
Teacher's Studio
Student's Home
Ages Taught
Children
Teens
Adults
Seniors
Levels Taught
Beginner
Intermediate
Advanced
Teaching Statement
Hi everyone,
I am a professional electric bassist/instructor now accepting students for all levels/styles.
I am currently in the process of completing my Bachelor Of Music at Vancouver Community College.
I teach out of my studio located approximately 4 blocks from the S.W. Marine Skytrain station at Cambie.
For beginners, intermediate, advanced, hobbyists or players who are interested in playing at the professional level.
I can also assist students in audtioning for post secondary music programs where they generally accept very few people.
I have many resources and can teach college level theory(Berklee method).
I have 18 years professional experience playing both live and in the studio and can offer much insight as to how to function as a bassist in both of those worlds.
I am also keen on helping you develop your own style according to your personality and tastes.
Thank you for considering me as your teacher and I hope to hear from you soon!
Scott
Education
EDUCATION
1993
PRINCE OF WALES SECONDARY
Vancouver, BC
-High School Diploma
1997-1999
SELKIRK COLLEGE MUSIC AND TECHNOLOGY PROGRAM
Nelson, BC
-Concentration on bass guitar performance, composition, music theory and recording techniques
2012
BERKLEE COLLEGE OF MUSIC (online)
-Advanced jazz improvisation with vibraphone master Gary Burton
I am currently in the process of completing my Bachelor of Applied Music At Vancouver Community College, Vancouver B.C.
Biography
I have been playing bass guitar professionally for 18 years.
I specialize in rock, R&B, soul, jazz and world music but am flexible and experienced in all styles of bass playing. I have toured throughout Western Canada, the USA and Southeast Asia and have performed in venues such as The Center For Performing Arts (Vancouver), Richards On Richards (Vancouver), the ACT Theatre (Maple Ridge, BC), The Cloverdale Rodeo and a house gig at Chilkoot Charlies (Anchorage, AK).
I have appeared on CBC TV and the Shaw Cable network, including the talk show Urban Rush. I have also shared the stage with such notables as Swollen Members, Leon Russell, Blue Oyster Cult, Jefferson Starship, Honeymoon Suite, Prism and Nick Gilder w/Sweeney Todd.
Studio Policies
Please bring a folder for your sheet music and a USB stick so I can provide you with some audio recordings and other resources. If I am coming to your home there will need to be an amp or PA with several inputs so we can both plug in. A music stand will help also!
If you need to cancel a lesson please try to give me 48 hours notice. Thanks!