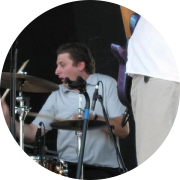 Anthony
Composition/Drums/Marimba/Percussion/Timpani
The first lesson is always a trial lesson.
If for any reason you are not happy we will fully refund any pending charges or help you find a new teacher. Your choice!
Subjects Taught
Composition
Drums
Marimba
Percussion
Timpani
Lesson Locations
Teacher's Studio
Student's Home
Levels Taught
Beginner
Intermediate
Advanced
Biography
Anthony Giancola is a freelance drummer, percussionist, offline/online session drummer and educator located in Manitoba, Canada. He has toured and recorded with various artists and groups from around Canada, US and other parts of the globe.
Anthony Giancola, born and raised in Winnipeg Manitoba, Canada, has spent nearly his entire life performing. Originally starting off playing the piano at the age of five, performing regularly in churches and recitals, Anthony switched to drums and began his musical career as a drummer at the age of 13. It all began with performing at "all ages" shows with numerous bands, and it was not soon after he got recommended to work as a percussionist and drummer at Trinity Television Studios. Right out of high school, Anthony continued performing and now started touring with numerous bands/artists: Burnt Project 1, South Thunderbird Blues Band, Dave Weber (The Web), and with a ton of other great artists and musicians.
In 2005 Anthony won a Juno, Western Canadian Music Award and Canadian Aboriginal Music Award with Burnt Project 1, and in 2007 a NAMMY with rock group Segweh. Some performance highlights include performing at: Junos (twice), Western Canadian Music Awards, Canadian Aboriginal Music Awards (3 times), National Aboriginal Achievement Awards, and the Rogers Center (Toronto, Canada) to list a few. Anthony has also shared the stage with Ron Paley, Mark Kelso, Rick Lazar and many other great artists.
Currently Anthony Giancola is working with the World Village Gospel Choir (under the direction of Neil Weisensel), Segweh, and Canadian artist Chris Goertzen, whose highly anticipated album will be released in 2015. Anthony is also head instructor and owner of Groove Academy Music School in Winnipeg Manitoba.
Anthony is gearing up to launch is own project with original tunes in early 2015 in the realm of heavy nasty funk grooves and R&B. You'll want to check that out.
Awards & Accolades
2010 – Nammy
2006 – Juno Award
2006 – Western Canadian Music Award
2006 – Canadian Aboriginal Music Award
2004 – CBC Galaxy Award
Performed – Shared the stage with
Neil Weisensel
World Village Gospel Choir
Chris Goertzen
Segweh
The Hazy Pilgrims
South Thunderbird Blues band
The Sharkhunters
Iskwe
Meghan Meisters
Nastic
Santee Smith
Fresh I.E.
Burnt Project 1
Lloyd Peterson
MJ Dandeneau
Scott Senior
Gill Fornier
Will Bonness
Ron Paley
Mark Kelso
Rick Lazar
John Ervin
Sierra Noble
Lucie Idlout
Terry Barnett
Deano Dean
Mike Swickis
Tim Butler
David Kramer
Soul Rebels
Roxwell
Inside Out Blues Band
Bandwidth ………..and many more
Performance Highlights
Junos
Western Canadian Music Awards
Canadian Aboriginal Music Awards
National Aboriginal Achievement Awards
Canada Day – Ottawa
CMA – Festival
Television/Radio/Other
Music Libraries
CBC Television
CBC Radio
Trinity Television
APTN Network
Rez Blues
"Next" 13 part television series
Winnipeg Comedy Festival
Contemporary Dancers of Winnipeg