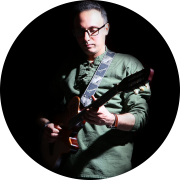 IMAN
Accompaniment/Guitar/Harmonica/Theory
The first lesson is always a trial lesson.
If for any reason you are not happy we will fully refund any pending charges or help you find a new teacher. Your choice!
Subjects Taught
Accompaniment
Guitar
Harmonica
Theory
Teaching Statement
My focus in teaching is prepare the students for playing in bands and on stages , teamwork and fundamental music theory are two power-full items in my teaching .
Education
Levels Of achievement from David Barrett and bluesharmonica.com : Levels 1 – 6
- Jazz composition course with Berklee online .
Biography
Iman started playing guitar 20 years ago and then he started learning harmonica , after 5 years he started his career as music teacher in several music schools in his hometown Shiraz ( Iran ) .
These 15 years of teaching , made him an experienced teacher .
During these years he held more than 10 concerts and 30 workshops about guitar and harmonica and earned the 1st place in 5th Fars Music Festival By Fariad Band and his eligibility for teaching blues harmonica from David Barrett .
Recently he moved to Montreal and started working on his album and his book - method for playing blues harmonica .