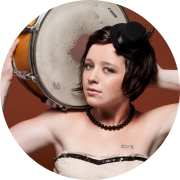 Eliska
Drums/Ear training/Flute/Piano/Violin
The first lesson is always a trial lesson.
If for any reason you are not happy we will fully refund any pending charges or help you find a new teacher. Your choice!
Subjects Taught
Drums
Ear training
Flute
Piano
Violin
Lesson Locations
Teacher's Studio
Student's Home
Levels Taught
Beginner
Intermediate
Advanced
Teaching Statement
Music is a part of my life and I cannot live without music. I would like to help my students to make the music part of their life and have fun.
Education
Prague conservatory- viola, drums, piano, choir singing, music theory.
Biography
I am a musician from Prague, Czech Republic. I was born to musical family and music become my whole life.
I started to play when I was 4 years old with piano and then I ended up with 18 instruments when I was 18.
I also attended music choir and painting lessons. During my studies on Music Conservatory I travelled all over the world with music with various bands and orchestras such as National Theatre, National Symphonic Orchestra, Kuhns Children Choir, Magnum Jazz Bigband etc. Besides my playing I also taught in my private studio and in music schools in Prague.
After my studies I moved to Canada to get more music opportunities and get to know a new place for life.