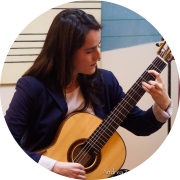 Karla
Bassoon/Guitar/Guitar (Classical)/Guitar (Electric)
The first lesson is always a trial lesson.
If for any reason you are not happy we will fully refund any pending charges or help you find a new teacher. Your choice!
Subjects Taught
Bassoon
Guitar
Guitar (Classical)
Guitar (Electric)
Lesson Locations
Teacher's Studio
Student's Home
Ages Taught
Children
Teens
Adults
Seniors
Levels Taught
Beginner
Intermediate
Advanced
Teaching Statement
Karla can teach many styles of music and levels, starting from a basic level to an advanced. She has at least 10 years of experience teaching kids, teens, adults and seniors. Karla understands that every student is different, and that is why there is no exact age for a person to start learning guitar. Karla is comprehensive and emphatic with every student and the most important thing, is what the student really wants to learn and achieve. For children she has successfully used a Japanese teaching style called Suzuki Method, which consists on making the teaching environment more playful and encourages parents to be actively involved with the lesson.
Education
Bachelor Degree in Music Performance, Universidad de Chile, Santiago
Suzuki Philosophy
Biography
Karla received a Bachelor Degree in Classical Guitar Performance. She has studied at three important conservatories in Chile, starting at the Conservatory of Universidad Austral (Valdivia), later at the Conservatory of Universidad Mayor (Santiago) and finishing her studies with high distinction at Facultad de Artes de la Universidad de Chile.
As a performer, Karla has experimented with a wide variety of musical genres (guitar ensemble, contemporary music, folk, fado, rock, classical, Celtic, Latin American music, etc), and has participated in many guitar festivals around South America including Argentina and Uruguay.
Studio Policies
Ley me know if you cannot assist to a class at least 24 hours before