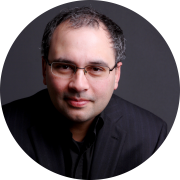 Carlos
Harpsichord/Piano/Theory
The first lesson is always a trial lesson.
If for any reason you are not happy we will fully refund any pending charges or help you find a new teacher. Your choice!
Ages Taught
Children
Teens
Adults
Seniors
Levels Taught
Beginner
Intermediate
Advanced
Teaching Statement
With over 18 years of experience, Carlos has taught students of all ages. He has worked in both, his private studio, and at formal institutions. His students have been successful in piano competitions as well as undergraduate and graduate auditions. Some of them are presently working as active musicians or pursuing degrees in universities throughout South America, USA and Europe.
Carlos is a passionate and dedicated teacher, committed to nurture the musical talent of his students and to help them enjoy music.
Education
Doctorate: Doctor of Musical Arts - Piano Performance and Pedagogy.
University of Iowa. Iowa City, USA: 2006.
Masters: Master of Music - Early Music/Harpsichord.
McGill University. Canada, 2015.
Masters: Master of Music - Piano Performance.
University of Toledo. Toledo, USA: 2003.
Undergraduate: Bachelor of Music - Piano Performance
Universidad de Antioquia. Medellín, Colombia: 2001.
Biography
Carlos began studying piano with Consuelo Mejia in Colombia. In 2001 he received his bachelors degree with honorable mention in piano performance from the Universidad de Antioquia under the guidance of Lise Frank. Then he continued his graduate studies in the United States, earning his master of music in piano performance from the university of Toledo under the tutelage of Dr. Michael Boyd and a doctorate degree in piano performance and pedagogy from the university of Iowa with Dr. Rene Lecuona. In 2015 he finished a masters of music in early music/harpsichord from McGill University where he was a student of Alexander Weimann and Hank Knox.
He has taught at EAFIT university in Colombia, at the University of Iowa, and later at the University of Antioquia where he worked for six years as a piano professor and head of the Piano area. Between 2009 and 2010 he was appointed Head of the music department of the University of Antioquia.
Carlos has been awarded prizes in different competitions including the first prize at the National Awards of Culture (Colombia), second prices at the National Petroff piano competition and the Yamaha-EAFIT piano competition (Colombia), an Honorable mention at the Chautauqua International piano competition (USA), and the first price in the four hands piano category at the City of Padua international competition (Italy) with the duo Betancur –Orduz. He has been the recipient of numerous scholarships including full ride to obtain his BA (Colombia), MM (USA) and DMA (USA) and a recipient of a Graduate Excellence fellowship at McGill University for his Master of Music in Early Music. He has performed as a soloist and Chamber musician in different concert halls throughout The United States, Canada, Colombia, Chile, Spain and Italy.