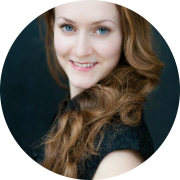 Kimberley
Voice/Voice (Classical)/Voice (Opera)
The first lesson is always a trial lesson.
If for any reason you are not happy we will fully refund any pending charges or help you find a new teacher. Your choice!
Subjects Taught
Voice
Voice (Classical)
Voice (Opera)
Lesson Locations
Teacher's Studio
Student's Home
Ages Taught
Children
Teens
Adults
Seniors
Levels Taught
Beginner
Intermediate
Advanced
Teaching Statement
While sharing the joy of singing with students, I believe first and foremost in creating a safe space in my studio so that students feel free to use their voice to its' potential. Learning to sing can be a very vulnerable process and students need a teacher who will encourage their every step in order to feel comfortable letting their voice grow. I also want to teach students the music that they love so they are motivated to practise and improve while still introducing them to music that might be new to them to expand their repertoire.
I believe in setting high standards for students, though the end result is not the most important part but rather the process of learning as much as possible and stretching one's limit. This means upholding and enforcing the standard of technique that is within the students capacity at the time. It also means starting with and always revisiting the basics of breathing and technique that will help build the freest and strongest version of the student's voice.
Education
Masters degree in opera and voice performance, McGill University
Bachelors degree in voice performance, McGill University
Biography
Born in Quebec city, Soprano Kimberley is now based in Montreal Quebec where she has recently completed a Masters degree in opera and voice performance at McGill University's Schulich School of Music. After pursuing voice lessons in Calgary for many years where she grew up, she decided to relocate to Montreal pursue her vocal education. After graduating from her bachelor's degree with honours in 2014, she decided to continue her studies at McGill to obtain a Master's degree in voice performance and opera.
Throughout the course of her studies at the Schulich School of Music she has appeared in several of Opera Mcgill's productions. Her most recent role was Rodelinda in Handel's opera, Rodelinda in February of 2016. Other highlights include Amy March in "Little Women" by Mark Adamo, Barbarina in Mozart's "Le nozze di Figaro", Cupid in "Venus and Adonis" by John Blow, and Peaseblossom from Benjamin Britten's "A Midsummer night's Dream".
In addition to her studies in Opera, Kimberley in also equally passionate about oratorio, early music, art song and contemporary repertoire. Having performed in various early music ensembles at the Schulich School of Music, in 2015 she was chosen to be part of a sponsored chamber performance at Early Music America's Young Performers Festival (Boston, MA). Some other performance highlights include singing in ORGAN2/ASLSP; an all night performance of music by John Cage at Christ Church Cathedral, Montreal (2015), performing as a soloist in Pergolesi's Stabat Mater performed by the studio of Joanne Kolomyjec (2015), and performing as a soloist in Calgary's Voicescapes production of Handel's Messiah.(2010)