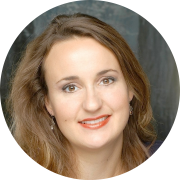 Sarah
Voice/Voice (Classical)/Voice (Opera)
The first lesson is always a trial lesson.
If for any reason you are not happy we will fully refund any pending charges or help you find a new teacher. Your choice!
Subjects Taught
Voice
Voice (Classical)
Voice (Opera)
Lesson Locations
Teacher's Studio
Student's Home
Levels Taught
Beginner
Intermediate
Advanced
Teaching Statement
Everyone can learn how to sing! Voice lessons are a great way to boost your confidence, learn how to sing better, improve your singing in Latin, English, French, German and Italian, and increase your sensitivity to elements of musical style. I teach in the bel canto style ("beautiful singing"), which is the approach used to sing classical music such as opera, solo song and choral music. Think of opera by Mozart or Puccini, songs by Schubert or Mendelssohn, and oratorio by Handel (Messiah, anyone?), Bach or Haydn. This is the repertoire you have heard sung in the bel canto style. Think of singers like Renée Fleming, Ben Heppner, Luciano Pavarotti, Maria Callas, and recall the undeniable beauty of their voices. This is how you can aspire to sing. No microphone is needed for amplification - with training, your instrument is capable of resonating with a quality of sound that will easily project over an orchestra in a large space.
Education
Young Artist, l'Atelier Lyrique de l'Opéra de Montréal (2007-2009
Artist Diploma in Vocal Performance (McGill University, 2007)
Master of Music in Vocal Performance (McGill University, 2006)
Bachelor of Music in Vocal Performance (Dalhousie University, 2000)
Biography
I am a lyric mezzo soprano from Waverley, Nova Scotia. After performance studies at McGill University and Dalhousie University, I joined the young artist program of l'Atelier Lyrique de l'Opéra de Montréal. I most recently performed with the Nova Scotia Youth Orchestra, Ensemble Regalis and the University of King's College Chapel Choir, Réjouissance Early Music Ensemble, Prince Edward Consort, and Symphony Nova Scotia, as well as Opéra de Montréal, Studio de Musique Ancienne de Montreal, Les Violons du Roy, Tempest Baroque Ensemble, and St. Cecilia Concert Series, among others. I have been recorded for Vision TV, Bravo Canada, CBC TV and radio, and on ATMA Classique.
Studio Policies
Please pay for a term of lessons (three-four months) up front, by cash, cheque or email money transfer.
If you cannot make a lesson, please let me know 24 hours in advance as a courtesy. Money will not be refunded for individual lessons missed, except in the case of serious illness where most of the term is missed, as determined on a case-by-case basis.