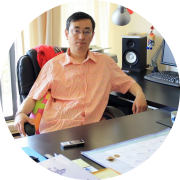 George
Composition/Electronic Music/Piano/Theory/Trombone
The first lesson is always a trial lesson.
If for any reason you are not happy we will fully refund any pending charges or help you find a new teacher. Your choice!
Subjects Taught
Composition
Electronic Music
Piano
Theory
Trombone
Ages Taught
Children
Teens
Adults
Seniors
Levels Taught
Beginner
Intermediate
Advanced
Education
M.A. (1999)
Department of Composition
Wuhan Conservatory of Music (WCM), Wuhan, Hubei, China
Major: Computer Music Composition
B.A. (1990)
Department of Orchestra/Compositon
Xi'an Conservatory of Music, Xi'an, Shanxi, China
Major: Trombone/Composition
Biography
Over 35 years in music study Learn Erhu (Chinese two strings instrument) with father at childhood. Switched to Trombone at 14-year-old then learned Trombone and Composition for bachelor degree and Computer Composition for Master degree.
10 years experience teaching RCM system at Montreal QC and Vancouver BC. Most teaching all levels theory from Rudiments to Analysis, running own music school now.
6 years experience in University Teacher at Mass Communication University of China (CUC), Beijing, China from 1999 to 2005. Supervised some musical courses such as Computer Music Composition, Electroacoustic Music Analytics, Tonal Harmony and Orchestration, etc.
COURSES TAUGHT IN CANADA DURING 2007-now
 2009-NOW Teacher for Piano, all brass of Trombone, Tuba, and all Theory courses, Richmond, Burnaby, Vancouver...
 2007-2009 Private teacher for Piano and Theory, Vancouver area, BC
 2005-2007 Private teacher for Piano and Theory, Montreal, QC
COURSES TAUGHT IN CHINA DURING 1999-2005
 2004-2005 Computer Music Composition, Counterpoint, 20th Century Music Analytics,
Electroacoustic Music Analytics
 2002-2003 Tonal Harmony, Computer Music Composition, Musical Form and Orchestration
 2001-2002 Rudiments, Computer Music Composition, Electroacoustic Music Materials,
Introduction Pop Music, Music Appreciation and Symphony Appreciation
 2000-2001 Computer Music Composition, Music Analytics of 20th Century,
Electroacoustic Music, Symphony Appreciation, Music Analysis, Advanced Harmony (20th Century), Tonal Harmony and Orchestration
 1999-2000 Tonal Harmony, Orchestration, Solfeggio and Symphony Appreciation
Studio Policies
Registration
Materials including books, official test papers, and other related publications are NOT included in the price.
Time Schedule
Students registered for entire sessions for a subject (all levels of Rudiments, Harmony, etc.) are entitled to their time slots for the entire current session and also the following sessions. Students registered for only one session will need to renew their classes before their last paid lesson in order to keep their time slots.
Thanks for your understanding.