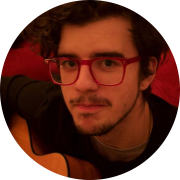 Oliver
Drums/Guitar/Guitar (Electric)/Music Production/Music Recording
The first lesson is always a trial lesson.
If for any reason you are not happy we will fully refund any pending charges or help you find a new teacher. Your choice!
Subjects Taught
Drums
Guitar
Guitar (Electric)
Music Production
Music Recording
Levels Taught
Beginner
Intermediate
Advanced
Teaching Statement
Any student of music has the ability to succeed – either on a personal level, a professional level or both. It is my job as their teacher to set the expectations very high; higher than the student may think they can achieve at first. Whether or not the student actually achieves the expectation at face value is not the point. The journey to reach those heights is how the student truly discovers their talent, their art and themselves. I provide the student with every bit of information that I can to guide them through their journey. But ultimately, the job of all teachers is to take the student to the point where they don't need us anymore.
Education
Musical Applications of Technology at Mcgill University
Biography
My name is Oliver Martins and I've been a multi-talented musician for over 13 years. I'm in a popular local Indie Rock band called Forest Frontier for which I produce and record all music in my home studio. This lead me to work along side Brian D'Olivera at La Hacienda Creative producing music for film & video games for companies such as Warner Bros, Sony, etc. The first instrument I fell in love with was the drums. I used to play and play until my hands would blister and bleed. When I wanted to start writing my own music, I picked up the Guitar. I fell in love with the idea of being a song writer and I continued on to produce, record and master over 100 songs. Music is my heart and soul.
Studio Policies