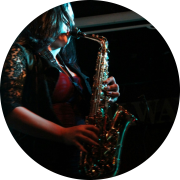 Kaylar
Accompaniment/Improvisation/Saxophone/Theory
The first lesson is always a trial lesson.
If for any reason you are not happy we will fully refund any pending charges or help you find a new teacher. Your choice!
Subjects Taught
Accompaniment
Improvisation
Saxophone
Theory
Lesson Locations
Teacher's Studio
Student's Home
Ages Taught
Children
Teens
Adults
Seniors
Levels Taught
Beginner
Intermediate
Advanced
Teaching Statement
I teach every student with them as an individual in mind, rather than the "cookie-cutter" method. I enjoy the challenge of catering each lesson to the unique obstacles that each saxophonist-in-the-making faces. As a lover of music, it is a wonderful opportunity to inspire the curiosity and passion of music in aspiring musicians. One of the greatest compliments as an instructor that I receive on a regular basis is that after a student has been "teacher shopping", they have decided to choose me as their instructor, having enjoyed their first lessons with me and leaving with a true sense of success and inspiration.
Education
I have a Bachelor's Degree in Music from the University of British Columbia, where I studied with wonderful instructors and had the privilege of working in unique, professional musical environments.
Biography
I first played the saxophone when I was eleven years old and since then, I haven't been able to put it down. Although classically trained, I draw my influences from many genres and talented individuals from all around the world. I've been teaching saxophone for about five years now, and as a young instructor, it is easy for me to relate to my students of all ages. Teaching is the most enjoyable way that I've been able to apply what I learned from my time at UBC. The ability to pass on the skills and knowledge of playing an instrument is a true source of joy and learning, as every student has had something to teach me as well.
Studio Policies
No question is a silly question! And no discussion about music is a waste of time! As a teacher, I love hearing where students draw their musical inspirations from and where they see music taking them in the future.
Please allow 24 hours for cancellations, or fee will still be charged.
If lessons are to take place at your home, minimum lesson length is 45 minutes.
Must have access to your own saxophone. Local music stores allow monthly rentals for great prices!
Schedule is very flexible. If rescheduling is required, just ask!