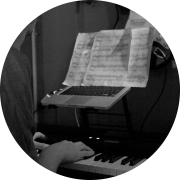 Jor
DJ and Mixing/Electronic Music/Music Production/Music Recording/Music Technology
The first lesson is always a trial lesson.
If for any reason you are not happy we will fully refund any pending charges or help you find a new teacher. Your choice!
Subjects Taught
DJ and Mixing
Electronic Music
Music Production
Music Recording
Music Technology
Lesson Locations
Teacher's Studio
Student's Home
Ages Taught
Children
Teens
Adults
Seniors
Levels Taught
Beginner
Intermediate
Advanced
Teaching Statement
Education
I have a bachelor in music and I am certified grade C in music theory.
Biography
My name is Jor van der Poel, I was born in Groningen, The Netherlands but I am currently living in Vancouver BC.
I am a music producer, arranger, teacher and sound designer.
A short introduction to who I am
When I was younger I always wanted to be a famous drummer, I already knew how to play so I started teaching drums to others and I got myself into music education. This introduced me to a whole new world of music, and I realised that if I knew how to record and arrange I could be my own band. So I started practicing piano and guitar, both classical and jazz and learned how to record this to use in my music.
Besides acoustic music I also loved the extreme flexibility of synthetic sounds which made me want to learn about sound design, mixing and mastering. I spend a few years practicing this 8 hours a day, I got pretty good at it and 3 years ago I started making weekly sound design videos for the online community ADSR.
This introduced me to a lot of people in the music industry, and learned me more about teaching. It also got me into the sound design team of Camel Audio, where I made factory library patches for their Alchemy synthesizer.
I realised I wanted to do more with sound design and with two other people from ADSR I started Sound-Freqs, a sound-design label that focuses on community instead of sales.
Pretty soon after starting we signed a Loop masters Exclusive deal, which means that they will handle the administration and promotion of our sound packs.
This was a very big thing for us but because I missed teaching music I wanted to set up something for young musicians that was unique and fun, approaching music in an experimental way, so I started Subject Sound.
The goal for Subject Sound is to let students explore music in a way that feels natural to them, I'll share all the theory and technical knowledge that I've gained over the years, but the rest is up to them. I help them with their mixes and arrangement and we talk about workflow and a good mindset for creating music. I truly love giving these lessons.