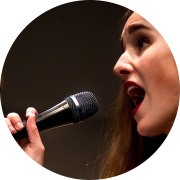 Tahnee
Ear training/Improvisation/Theory (Jazz)/Voice/Voice (Jazz)
The first lesson is always a trial lesson.
If for any reason you are not happy we will fully refund any pending charges or help you find a new teacher. Your choice!
Subjects Taught
Ear training
Improvisation
Theory (Jazz)
Voice
Voice (Jazz)
Teaching Statement
Simply put, I believe music to be inseparable from the human spirit, and the human voice to be the most powerful medium through which this belief is expressed. Allow me to guide you in your comprehensive exploration of this art; whether your musical goals are simple or grandiose, I have the experience and the passion to take you there.
Education
Diploma of Jazz Studies from Capilano University with distinction
In completion of a Bachelor of Jazz Studies from Capilano University
Biography
Music, especially singing, has been a lifelong passion. not growing up in a musical family myself, I sought out my own outlets for fulfilling this passion, taking band class in elementary school and learning the guitar through private lessons. My heart is in my voice though: I participated in Argyle Secondary School's reputable concert and jazz choirs and took private voice lessons after my graduation. It wasn't until I decided to audition for Capilano University's Bachelor of Jazz Studies program however that I took music theory lessons, and my passion grew to envelop this mysterious and beautiful study.