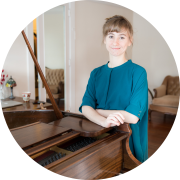 Beatrice
Piano/Piano (Classical)/Theory
The first lesson is always a trial lesson.
If for any reason you are not happy we will fully refund any pending charges or help you find a new teacher. Your choice!
Subjects Taught
Piano
Piano (Classical)
Theory
Ages Taught
Children
Teens
Adults
Seniors
Levels Taught
Beginner
Intermediate
Advanced
Teaching Statement
My goal as a teacher is to nurture a love of music in each one of my students while building strong foundations in technique, reading, music theory and musical expression. I believe in positive reinforcement as a way to encourage and motivate, and I make sure to create an environment where my students feel valued and supported. My students believe in themselves and work hard to achieve their goals.
My teaching of piano technique focuses on a holistic understanding of body mechanics and weight distribution at the piano. My aim is always to guide my students towards a way of playing that will allow for greater ease, freedom of movement and coordination.
The importance of choosing repertoire that excites and inspires the student is always taken into account. For this reason lessons draw on a wide array of musical resources. Teacher and student work together to find pieces that will capture the student's imagination and turn practice sessions into a pleasure. Students are encouraged to listen often to classical music and are provided with recordings that can be played at home.
Lessons take place in a sunny downtown studio on a professional grand piano, or at the student's home. Students perform twice a year in bi-annual studio recitals and are also encouraged to participate in various festivals and competitions in the greater Vancouver area, as well as prepare for Royal Conservatory of Music Examinations.
Education
Master of Music in Piano Performance - Schulich School of Music, McGill University
Bachelor of Music in Piano Performance - Schulich School of Music, McGill University
Biography
Beatrice is a classical pianist, piano teacher and professional accompanist based in Vancouver BC. She completed her studies in Montreal at the Schulich School of Music of McGill University under Professor Marina Mdivani (Tchaikovsky competition prizewinner and former student of Emil Gilels) where she received both her Bachelor and Master of Music degrees in piano performance. She has performed and participated in piano festivals and masterclasses in Europe, Canada and the United States where she has been fortunate enough to study under such renowned pedagogues as Menahem Pressler, John Perry, and Emile Naoumoff (former student of Nadia Boulanger). She has been the recipient of several honors and awards including the McGill Graduate Excellence Fellowship, a Williamson Foundation Grant, and a Jean Paterson Memorial Award. Her playing has been praised for its clarity of tone and depth of emotion. She has a special affinity for the music of Mozart and Schubert and enjoys the study and performance of both solo repertoire and chamber music.