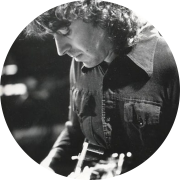 Richard
Guitar/Guitar (Classical)/Guitar (Electric)/Guitar (Flamenco)/Guitar (Jazz)
The first lesson is always a trial lesson.
If for any reason you are not happy we will fully refund any pending charges or help you find a new teacher. Your choice!
Subjects Taught
Guitar
Guitar (Classical)
Guitar (Electric)
Guitar (Flamenco)
Guitar (Jazz)
Levels Taught
Beginner
Intermediate
Advanced
Teaching Statement
30 years experience in teaching guitar to all ages from my apartment. Classical, BossaNova, Jazz, Rock, Blues, FingerStyle, Sweep Picking. References available on request. My apartment is big, nice and clean. My awards including Juno and Gemini award nominations are posted on my wall and that alone inspire my students a lot, making them feel secure. Beginners are welcome since I believe it's important to start with the right hand positions.
Education
Bachelor degree, University of Montreal
Biography
Juno and Gemini award nominee Richard Fortin is an accomplished composer, arranger, and producer whose work encompasses a broad spectrum of musical production that includes television, films and studio recordings.
Richard Fortin wrote music for Alliance Atlantis and he is also a recipient of 2 Gold albums from Sony and Universal as well as 4 awards from the U.S. for his music for films. His symphonic works have been performed in South, Central and North America. He has worked with internationally acclaimed musicians such as Michael Kamen, David Gilmour of Pink Floyd, Chet Atkins, Zamfir, Ray Cooper (percussionist for Madonna) and Alex Lifeson (Rush). He also worked on the album "Persona" featuring Eric Clapton and Yo Yo Ma.
Among others, Richard Fortin produced 6 time Juno award winner Liona Boyd (Camino Latino), Patricia O'Callaghan and Elaine Overholt who was vocal trainer for Richard Gere and Renee Zellweiger in "Chicago". Liona Boyd has recorded some of his music on her albums: Persona, Encore, The Spanish Guitar, Dancing on the Edge and Camino Latino on which his music was performed by prestigious guitarists Steve Morse of Deep Purple and the legendary Al DiMeola.
Studio Policies
Students must be on time. I have guitars in my studio in case they dont want to bring their own guitar.