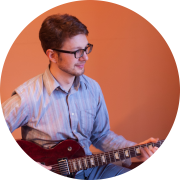 The first lesson is always a trial lesson.
If for any reason you are not happy we will fully refund any pending charges or help you find a new teacher. Your choice!
Ages Taught
Children
Teens
Adults
Seniors
Teaching Statement
Ryan's emphasis is for the student to have fun when learning the instrument as this sustains the students interest and facilitates growth of playing skills. Ryan incorporates and encourages listening as much as playing to spark the students inspiration and understanding of playing guitar and becoming a musician.
Education
Ryan specialized in music composition while studying contemporary rock/jazz guitar at Selkirk College in Nelson, BC (an affiliate to the renowned Berklee College of Music in Boston, MA). He has thorough knowledge of music theory and the natural ability to "play by ear". Ryan has experience in creating original music for both the studio and on stage.
Biography
With 18 years of experience, Ryan Harrison is a professional musician and guitar master. As lead guitarist in multiple bands, Ryan has toured across Canada performing live in a variety of venues.
Ryan has been teaching guitar for 5 years. Each lesson is tailored to the particular needs of each student, providing the student with the tools they need to reach their goals. Ryan offers music theory, ear training, and a variety of playing techniques.
Studio Policies
Policies
Should you miss a lesson, you are free to make it up before or after the missed lesson.
48-hour advance notice is required to be eligible for a makeup lesson which will be given within 30 days
Students will be charged for lessons cancelled less than 48 hours in advance.
In the rare event that a mutually convenient time can not be agreed upon, the lesson should be moved to the end of your current lesson package or if this is not possible, the student can request to be issued a refund.
If you do not re-schedule, you forfeit the fee for that lesson.
If you need to take an extended break, just let us know at least 48 hours before your next lesson. We will either put your lessons on hold until you return, or issue a refund for all uncompleted lessons.
If you decide to discontinue your lessons, let us know at least 48 hours before your next lesson. We'll be sad to see you go, but we'll refund all uncompleted lessons.