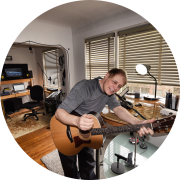 Chris
Guitar/Music Production/Music Recording/Music Technology/Voice
The first lesson is always a trial lesson.
If for any reason you are not happy we will fully refund any pending charges or help you find a new teacher. Your choice!
Subjects Taught
Guitar
Music Production
Music Recording
Music Technology
Voice
Lesson Locations
Teacher's Studio
Student's Home
Ages Taught
Children
Teens
Adults
Seniors
Levels Taught
Beginner
Intermediate
Advanced
Teaching Statement
Music Classes, Creativity, and Responsibility
My main objective is to provide students with the tools and resources needed to discover their musical selves, to encourage them to perform with confidence, whether in a classroom, or in front of an audience. My students are involved in the selection and arrangement of material. The teamwork and interpretation skills that go into the performance and creation of music are highly valued, and my classes often start with critical listening sessions, followed up with discussion, inquiry, and technical demonstrations.
Due to early involvement in musical theatre, the voice was my first instrument, but the guitar has been my primary non-vocal instrument for many years. I ask students to develop their own methodologies when learning instruments, to acquire techniques that when practiced with care and diligence can extend into any avenue of musical study they should choose to pursue. Some students want to learn how to accompany themselves, and so keeping parts rhythmically and harmonically sound is stressed. Others see potential for beautiful ensemble instrumental music, while the individualists like to pursue paths of pure invention and virtuosity. All of it has a place. It is my wish for them to discover their own musical voice.
I use the piano/keyboards as an accompanying instrument for student choral work, and teach using it as a compositional tool, and as a foundation instrument for understanding melodic and harmonic theory. I love playing the piano and also using keyboards and midi-based applications/synthesizers. Because of my passion for playing and improvisation more than my minimal keyboard abilities, I was often asked to contribute parts to student projects while studying production at Nimbus School of Recording Arts.
Vocal Music
I directed school choirs and taught choral classes in Canada from 1997-2003, and from 2004-2009 in Japan. Students develop correct posture, breathing, dynamics, intonation, while also improving their English pronunciation and vocabulary. Since 1992, I have had students from vastly different backgrounds, languages, and cultural perspectives. They have been introduced to contemporary and traditional folk, pop, classical, jazz, and world music, helped to arrange and modify parts while also experimenting with new sounds and musical vocabulary to structure their own compositional ideas.
Between 2004 and 2009, I organized and directed five Christmas Concerts at Canadian International School in Tokyo. Theses Christmas concerts were very special events, with involvement from all K-12 students, teacher participation, organization and stage management, and also a great deal of support from parents, staff and administration. They felt like the best of family celebrations, and were always looked forward to as such. Additional Spring Concerts and International day Performances were more informal, but festive, energetic and fun.
As much of my musical experience has come through the recording process as it has through live performance. I have tried my best to integrate what I have learned as a performing singer-songwriter and recording artist with my teaching platforms. It is an approach that keeps me connected to what I teach on both a practical and theoretical level, and it keeps me searching for new and relevant ideas to share.
Education
Education
Diploma- Advanced Music Production (94% average, 100% in theory)
Nimbus School of Recording Arts, (604) 875-8998
Private Classical Guitar Studies
Stephen Boswell, Spring 2010
B.F.A.- E.C.C.A.D. and Open Learning University- 1988 (ECIAD) and 1992 (OLU) Diploma (Honors) Painting, 2D, sound recording- E.C.C.A.D., 1988
Diplomas in Drawing and Illustration Courses
Vancouver Community College- Fall 1983
Video Editing
B.C.I.T. Continuing Ed. Course Spring 2000, John Bowyer Smith- Instructor
Music Composition, Business and Theory
Malecot Music Enterprises- Fall and spring 2001-02 weekly sessions
Certification
B.C. Independent Schools Certificate for teaching Art and Music
Biography
Chris Catalano
- is a musician (vocalist, multi-instrumentalist and producer/performer), and visual artist (painting, photography, mixed media and video) who grew up in Trail, B.C., and has lived in Vancouver since 1980, London (1982), and Tokyo (2004-2009)
- graduated with honors from Emily Carr in 1988, and began to explore the link between his visual art and music in multiple exhibitions at public and private galleries in Vancouver, the Kootenays, and Tokyo
- recently took the Nimbus School of Recording Arts advanced music production Program, and is a prolific independent recording artist and producer of original compositions
- developed a reputation for creating eerie, imaginative soundscapes while studying painting, and often scored media student films
- creates highly allegorical art and music, which is layered and open to multiple interpretations
- has been a teacher of fine arts: painting, drawing, photography, and vocal/instrumental music at: Richmond International High School (1992-2004), Canadian International School in Tokyo (2004-2009), and St. John's International School (2009-2011)
Music Production and Composition
I have been writing and recording my own music since the early 1980s, when I was singing in a synth pop cover band and in a progressive fusion band just prior to attending Emily Carr. I was much more interested in an exploratory approach to music and sound at that time, so being asked to score student films was a perfect augmentation to studying painting during those years. Immediately after graduation, I created a soundtrack for a promotional MTV video for the Douglas Coupland novel, "Generation X", and since then I have continued to write, perform and record my own material. In 2011, I graduated from the advanced music production program at Nimbus School of Recording Arts, and have been invited back a few times as a guest artist to talk about my work,; to have it analyzed and even to track additional parts like cello and tympani. In November 2014, I gave a guest lecture on mobile recording and app interconnectivity on iOS devices (I have won 3 recent music creation challenges on the International iPad Musician Facebook site, see link below to "Kids and Fireworks"). I connect my music with my visual art work in painting, video and photography, while continuing to develop content for the classroom that a llows me to share in my process and acquired knowledge.
Solo Work
"A Secret Underground", Chris Catalano - Recorded in Japan, Canada, and the US between 2004-present - a cycle of songs dealing with my experiences of Japan, before, during, and after my time there.
"Echo Off a Cloud, Chris Catalano- Independent Music CD Release, 2003
I started this project in Spring 2000. I integrated field recordings incantatory vocal harmonies, a variety of real and synthesized instrumentation. iTunes.
Details of other recordings available by request.
Studio Policies
I have a lovely project studio in the west end, with excellent recording gear and software for creating demos, finished vocal and instrumental work. Students are free to attend with their parents or guardians, but not friends. They are expected to remove shoes, and to treat all gear respectfully.