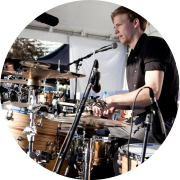 Blair
Drums/Guitar/Improvisation/Musicianship
The first lesson is always a trial lesson.
If for any reason you are not happy we will fully refund any pending charges or help you find a new teacher. Your choice!
Subjects Taught
Drums
Guitar
Improvisation
Musicianship
Ages Taught
Children
Teens
Adults
Seniors
Teaching Statement
I offer an efficient and enjoyable teaching approach that focuses on establishing a strong foundation, while also developing musical playing habits. Every student has different motivations and learning processes, and I tailor my teaching to suit those individual needs.
A student's testimonial:
Taking lessons with Blair over the last 6 weeks has already been a rewarding and humbling experience. As a musician of 9 years, I have firmly stood by the belief that you are never too old or too experienced to continue seeking knowledge and education in your craft, whether it be for the sake of increasing technical ability, perspective, or solidifying your fundamentals. Blair has gone out of his way to personalize lessons towards my unique strengths and weaknesses, and even in this short time under his tutelage I've seen dramatic increases in my playing and writing abilities. I wholeheartedly recommend him towards anyone looking to learn about music, regardless of age or skill level.
- Graham Scanlon
Education
15 years of private study.
Biography
I'm an experienced musician (15 years of songwriting and 11 years of live performance) who is offering lessons for drums, guitar, and songwriting. I've played on several albums, and have performed music all over the world in various groups. My rate is $20 per half hour or $30 per hour.
I'm comfortable teaching students of all ages, although it's recommended that the student is old enough that their hands are able to properly hold drumsticks or hold down chords on a guitar.
For songwriting, the lessons will focus on chord progressions, arrangements, writing lyrics, and how to establish your own sound. I've written music in groups of varying genres (pop rock, funk, jazz/fusion, hardcore, contemporary, etc.), so all writing styles are welcome!
Some artists that I've worked with in the past are:
Good For Grapes
Luca Fogale
Sam Weber
Alexandria Maillot
Morning Show
Dominique Fricot
Bed of Stars
Skye Wallace
... the list goes on!
I look forward to hearing from you,
- Blair Hansen