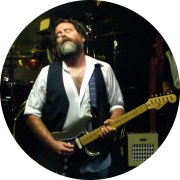 Scott
Guitar (Electric)/Guitar (Jazz)/Theory (Jazz)/Vocal coaching/Voice (Jazz)
The first lesson is always a trial lesson.
If for any reason you are not happy we will fully refund any pending charges or help you find a new teacher. Your choice!
Subjects Taught
Guitar (Electric)
Guitar (Jazz)
Theory (Jazz)
Vocal coaching
Voice (Jazz)
Levels Taught
Beginner
Intermediate
Advanced
Biography
Born April Fool's Day, 1969; 3rd generation guitarist. Raised on the road by rock musicians in the 1970s, he started singing onstage at the age of 8, and started playing guitar at the age of 11.
Scott got his first paid gig TWO years later in 1983. It was a studio session for a songwriter he met thrOUGH A stint in a high school jazz band, and his payment was a vox wah!
Scott has been workin' bars, nightclubs, and recording studios ever since. The first act he fronted was a blues rock band called "Temple Memphis" that did THEIR thing in small bars and clubs from Tahoe to 'Frisco.
Somehow, along the way, he fell in love with the idea of backing up other artists looking to make their mark, and ended up playing with folks into just about every variety of American roots music, from jazz to swing to rock to hip-hop. But no matter what the genre, he always found a way to put the blues into it - just playin' it his way.